AWS is the biggest cloud provider globally, and it is increasing at a much faster pace. Along with Services, AWS is offering different levels of certification to cover the various phases of its services. The AWS Certified Data Analytics – Specialty DAS-C01 exam is intended for people who have experience designing, building, securing, and maintaining analytics solutions on AWS.
The DAS-C01 exam will test your technical skills on how different AWS analytics services integrate. You also need to know how they fit in the data lifecycle of collection, storage, processing, and visualization.
Building credibility and confidence by highlighting the abilities to design, build, secure, and maintain analytics solutions on AWS, AWS Certified Data Analytics – Specialty (DAS-C01) Exam is vital to have a promising career.
The AWS Certified Data Analytics – Specialty certification proves your expertise in AWS data lakes and analytics services. Build credibility and confidence by highlighting your ability to design, build, secure, and maintain analytics solutions on AWS that are efficient, cost-effective, and secure. Show you have size and depth in delivering insight from data.
Abilities Validated by the DAS-C01 Certification
Ability to set AWS data analytics services and learn how they integrate.
Ability to learn how AWS data analytics services fit the data life cycle of collection, storage, processing, and visualization.
Are You Up for the AWS Data Analytics Specialty DAS-C01 Exam?
Now, you can take the big step to begin your preparations for the AWS Data Analytics Specialty certification exam. Other than AWS Certified Data Analytics Specialty exam preparation, candidates should also explore beyond courses and guides. For example, engaging in online communities and study groups can help candidates find novel insight about the exam.
Most importantly, candidates can get a support exam for their preparations, thereby securing favorable outcomes. Another crucial thing that candidates should remember for increasing their preparations is to take care of their health and diet. Do not stress too much, and move forward by following the best practices suggested by experts.
AWS Data Analytics Specialty DAS-C01 Certification Benefits
1. A Promising Approach for Skill Development:
Access to a broader ecosystem is the first beneficial feature of AWS Data Analytics Specialty certification. More than other Cloud PaaS providers, AWS supplies more software and goods. The various methods and solutions at AWS offer improved opportunities for your future at all levels of extensive data management. High versatility helps you to select a different career direction with the AWS Data Analytics Certifier.
2. The Substantial Rise in Salary:
Another significant advantage of Data Analytics Specialty Certification is that of AWS accredited Data Analytics salary. The average pay in the US could be 100,000 dollars annually for uncertified scholars. Adding AWS credentials will, however, help increase the number. Public figures reveal that the starting point of the broad data wage certified by AWS is USD 160,000 annually.
3. DAS-C01 Exam is Cost-effectiveness:
Even in terms of price, the option of AWS Data Analytics DAS-C01 Certificates is acceptable. This qualification can be considered to be the most economical for applicants. At the lowest rates on the market, AWS has delivered qualification registrations.
Also, applicants may participate in AWS Data Analytics certification programs for a one-year free trial. In comparison, AWS preparation materials and qualification resources are comparatively cheaper than most offers. Practical training using AWS utilities like DynamoDB, AWS Glue, AWS Lambda, Amazon S3, and others may also be offered to candidates.
4. Data Analytics Career Progression:
Finally, the link to promising employment positions is the benefits of the qualification of AWS Data Analytics. The majority of jobs in the cloud computing environment need AWS. Besides, nearly 350,000 new demands in numerous AWS positions can be seen in 2019. As a result, new milestones in your career will be gained with better parts. The single credential will also serve as a tremendous catalyst for job growth.
5. AWS Data Analytics Certification Salary:
Salaries typically rely on your knowledge of the subject and your experience. Unfortunately, data Analytics and AWS are beyond question a lethal order and are very demanding in the IT industry today. Therefore, it is tough to clear the AWS Accredited Data Analytics Expectation, enabling you to have detailed expertise and experience in Data Analytics Analysis of AWS.
Since the specialty tests need a minimum of 5 years of professional experience, you are presumably familiar with the subject. There is no denying that you will earn decent incomes with the AWS Accredited Data Analytics Specialty credential.
The salary for AWS Qualified Data Analytics can be over USD 130,000 annually. But it would be best if you did not have a six-figure wage accredited for AWS Data Analytics. Your expertise and experience are all essential. The credential AWS Data Analytics would help you obtain better incomes, as well as skills.
6. AWS Data Analytics Certification Cost:
Today, AWS Certification has been the company mantra, and behind it, there is a good explanation. The AWS is the Amazon web service that compares to service hosting. Today, more than 80 percent of organizations around the world use their data-driven infrastructures with cloud hosting.
This number alone is enough to show how big AWS hit is. Amazon claims that the AWS certifications worldwide retain the exact charges as it will keep accountability and enable students to feel a sense of equality.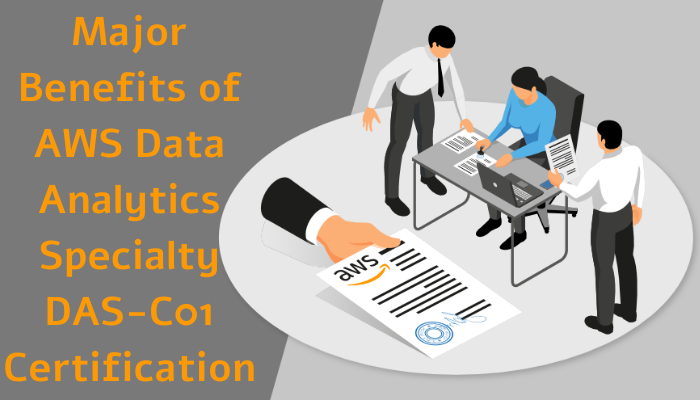 Conclusion
One of the most challenging examinations is the certified AWS DAS-C01 certification Specialization test which requires much practical experience. The longer you get, the more valuable it is for you.
You need to follow the preparatory guidance, learn more and more detail, and take the certification test. Then, when you do the training and need some effective practice content for the AWS DAS-C01 certification Test, VMExam.com will help. You will certainly produce better results by concentrating on preparation and planning well for the DAS-C01 exam.