We are well accustomed to the AWS certification exams and the level it takes you to after getting the certification. With the latest technologies and expert research work, AWS always stays updated with its exam.
In 2020, there were many ups and downs for certifications and the methods for taking exams. Keeping all that in mind, AWS has made changes in its exam in the year 2021. One of the significant modifications was bringing up the new updated exam – AWS Certified SysOps Administrator – Associate (SOA-C02).
AWS Certified SysOps Administrator – Associate (SOA-C02) is the new version that will follow the previous AWS Certified SysOps Administrator – Associate (SOA-C01) Exam. Coming on to the point, in this article, we will be discussing this latest exam and all the new features that will come with this. So, without losing any time, let's begin with a basic overview of the AWS Certified SysOps Administrator – Associate (SOA-C02) Exam.
AWS SysOps Administrator Associate SOA-C02 Exam: What's New?
AWS has made updates to the AWS Certified SysOps Administrator – Associate exam for considering the fast pace of change on the AWS program and the latest best methods for the SysOps administrator role. The new AWS Certified SysOps Administrator – Associate (SOA-C02) exam comes with a mixture of multiple-choice, multiple responses, and exam lab items. After completing the exam labs, you will demonstrate skills relevant to a SysOps administrator role by developing solutions with the AWS Management Console and AWS CLI.
In this exam, there may be three kinds of questions on the examination. This involves:
Firstly, Multiple choice. In which there are one correct response and three incorrect responses.
Secondly, Multiple answers. This can have two correct answers out of five options.
Lastly, Exam lab. This consists of a scenario with tasks to perform in the AWS Management Console or AWS CLI.
Further, when you start your exam, you will be informed of the number of questions in the multiple-choice and multiple answer section and the number of exam labs in the exam lab section. So, before moving to the next one, finish all work on an exam lab before you can return to a prior exam lab.
Points to Prepare for the AWS SysOps Admin SOA-C02 Certification
To get AWS Sysops certified, below, we have suggested some tips that a candidate can match up to make everything work in the right way.
1. Join AWS SysOps Training Courses
Candidates ready to pursue this career can join AWS SysOps Administrator Training Courses, giving them the perfect guidance for the exam.
| | |
| --- | --- |
| Name | AWS SysOps Administrator Associate (AWS-SysOps) |
| Code | SOA-C02 |
| Price | $150 USD |
| Number of Questions | 65 |
| Passing Score | 720/1000 |
| Recommended Training | Systems Operations on AWS |
2. Visit the SOA-C02 Official Site
If you have chosen to go for AWS SysOps Certification, then the first and foremost thing a candidate has to do is visit the official website. Over there, you can check all the verified parts of this certification course.
3. Blueprint of the SOA-C02 Exam
Once you have found all the information about the AWS SOA-C02 exam, you can also get the blueprints of the topics covered in the AWS SOA-C02 exam. Blueprint is the official curriculum for the exam. It includes all the issues that provide you with knowledge like the number of questions, a list of white papers, etc.
| | |
| --- | --- |
| Domain Name | Weightage in % |
| Monitoring, Logging, and Remediation | 20 |
| Reliability and Business Continuity | 16 |
| Deployment, Provisioning, and Automation | 18 |
| Security and Compliance | 16 |
| Networking and Content Delivery | 18 |
| Cost and Performance Optimization | 12 |
4. White Papers
It is a collection of documents that allows detailed information about every service. AWS considered the whitepaper an essential document because many AWS SysOps Associate exam questions are based on it. So, to make it easier, one can go for all the whitepapers mentioned on the website.
5. Online SOA-C02 Practice Exams
Once you have taken all the essential information and concept for the AWS SOA-C02 exam, it is time to judge your efforts by taking some practice tests that provide you the right plan about how well you have prepared for the exam. You can quickly get the correct number of questions from a website like VMExam, one of the most popular AWS SOA-C02 practice exams.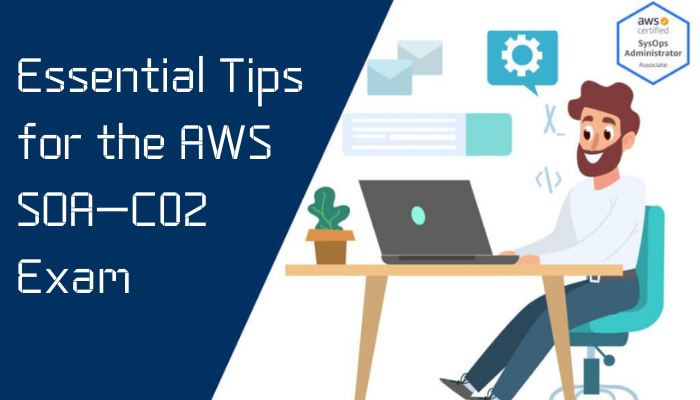 6. Watch Online Videos
After collecting all the information associated with the AWS SOA-C02 exam, it will be a plus point for a candidate to watch some videos on the AWS certification exam. Besides, to start with the basics for newcomers, they can visit the official website of AWS SysOps Certification.
AWS Cloud Certifications are supposed to be the most challenging and highest-paying IT certifications. Above is given all the essential information to start your preparation for the AWS SysOps Administration Associate Exam.
Summary
AWS SysOps certification is changed for individuals who enjoy building and maintaining systems and can do programming. If you are from a non-technical background, this exam may look like a bit tough nut to crack. Still, once you take formal AWS certified SysOps Administrator training and get hands-on updated study material or sample questions, you can ace this technology and its certification very well. Nothing is complicated unless you try and put in your best efforts.