Certifications have now become way more significant than anyone thinks they could be. The AWS Certified Database Specialty (DBS-C01) examination is intended for individuals who make a database-focused role. The IT industry, especially companies like Amazon, Google, Oracle, etc., demand certified professionals for the organization for managing their tons of data. Merely getting the certifications is not enough.
It would be best to get a complete conceptual understanding and the practical application of the DBS-C01 certification content. Just cramming the portion can fetch you good marks but not the salary as high as you deserve to get. The certifications help you get a good job and build self-confidence and quality in your work.
This certification test is designed for professionals working in database-focused roles in the field of IT. The DBS-C01 exam will evaluate the candidates' capabilities on extensive knowledge of the database. The areas that will be tested include the experience and skills associated with designing, maintenance, access, monitoring, deployment, migration, troubleshooting, automation, and security.
Highlights of New AWS Database Specialty DBS-C01 Exam
The individuals taking this test can begin registering as soon as registration begins. The exam fee has not been released, but the previous costs can give a possible estimate. The test formats to be required during the delivery of the version are multiple-response and multiple-choice questions. Those candidates who pass the exam will get the AWS Certified Database – Specialty DBS-C01 certificate.
The AWS Database Specialty exam blueprint recommends that the examinee have at least five years' experience with database technologies and two years' experience working with AWS. It would be best if you were easy with open source SQL and NoSQL databases.
The objectives for the AWS test are new, which means there is nothing to compare them against. However, with time and as the DBS-C01 exam gains footing, updates will be made, and reviews can be done. The topics that the candidates have to study during their preparation are highlighted as follows:
 Workload-Specific Database Design: 26%
Database Security: 18%
Management and Operations: 18%
Deployment and Migration: 20%
Monitoring and Troubleshooting: 18%
Preparation Tips for New AWS Database Specialty DBS-C01 Exam
When it comes to preparing for this DBS-C01 certification test, it is necessary to mention that, of course, there are no past questions or braindumps that can be used because the exam is new. However, there are devices available for your preparation process.
The first step to success is a comprehensive overview of the content and objectives. Read the subtopics of the DBS-C01 exam content well, and be sure you know what they cover. It is strongly advised that you join the official training course for this new AWS test. You can also check out other essential preparation platforms to access study materials and other training resources.
The AWS Database Specialty certification is intended for people who have at least five years of experience with database services and technologies and at least two years of hands-on experience with AWS. It is recommended that you have experience and expertise working with on-premises relational and non-relational databases.
The DBS-C01 exam validates your ability to do the following:
Understand and explain the differences between key features of AWS database services and technologies.
Analyze needs to suggest and design relevant database solutions using AWS.
Registration for New AWS Database Specialty DBS-C01 Exam
The first step is to visit the official AWS training page. If you are new to the platform, you will create an account to access the registration portal. For those who already have one, sign in to it with your details. After this step, locate the certification menu and click on it. Then you have to click the 'Schedule New Exam' button to schedule your DBS-C01 certification test.
When you click this button, you will be redirected to PSI, the platform's training vendor. This is where you will take the right testing center where you will take this new Amazon exam. On this page, locate the latest AWS Certified Database – Specialty DBS-C01 exam option and choose it. Follow the guidelines to make your registration. As soon as you perform the registration process, you will receive an email notification to prove that you have done everything right.
Conclusion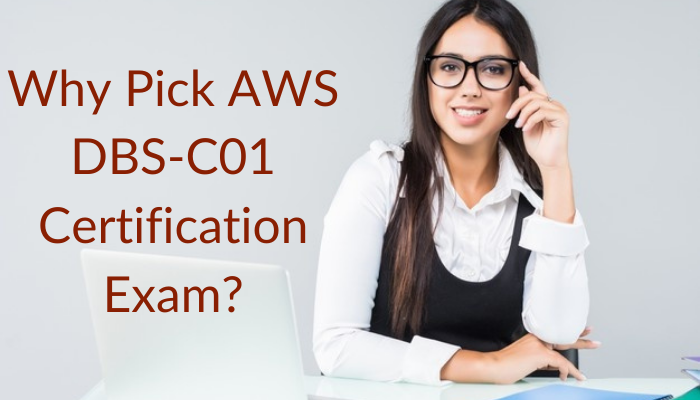 Taking this DBS-C01 exam may not be easy, but you should understand that you will get the certificate if you score well on this test. It is an excellent opportunity to earn a new and globally recognized IT credential among the first. Use this chance for your benefit.