AWS cloud practitioner certification certifies an individual's understanding of the AWS platform as a globally known and valued certification. In simple words, this CLF-C01 certification serves as a means to your potential or current employees to take over certified AWS Cloud professionals in the organization.
This CLF-C01 certification lets the recruiter understand that you can define and implement the core concepts and practices of AWS cloud into the organization's infrastructure. In addition, candidates are expected to get the day-to-day use of AWS cloud services to meet the organization's needs.
Passing the AWS Certified Cloud Practitioner exam demonstrates a person's general foundational knowledge of the AWS Cloud. In simple terms, this means that you know the core of what AWS does for a current or potential business owner.
You are expected to understand daily use cases of core AWS services and define billing models, account management, and pricing. You will also need to exemplify that you know various sources and sources for documentation and technical assistance, such as AWS white papers for technical documentation and how to submit support cards.
Should You Take the AWS Cloud Practitioner Certification?
If you are asking for an honest answer, it would say "yes," but the decision relies on your goals in most cases. Do not follow this path if you are only seeking it just because you require something to put on your resume. Instead, look for other certifications, and I suggest that you start with the cloud practitioner.
However, if you need to pursue the AWS Cloud Practitioner Certification course to set yourself apart from your peers, you should go for it. If there is one sure thing, AWS is extending its reach to IT and non-IT fields. And as AWS continues to grow, the certified professionals become more crucial by the day.
How to Study for the AWS Certified Cloud Practitioner CLF-C01 Exam?
AWS Certified Cloud Practitioner is a challenging certification to achieve. It is not an exam where you can buy a set of practice tests, review them over and over again, and have you pass them. The exam is very focused on the scenario. Anyone who wants to understand how to prepare for AWS certification should note that AWS writes their CLF-C01 practice exams. Your understanding of their services can pass.
The AWS Certified Cloud Practitioner exam needs knowledge and is much less risky than other exams, such as the AWS Certified Solutions Architect, and it never hurts to be prepared.
If your test is due and needs to be reviewed before it is conducted, we support AWS Concepts and AWS Essentials. This will include most of the AWS services you need to know about, as well as some conditions on how they may fit your organization.
AWS CLF-C01 Exam Preparation: Practice Makes Perfect
The study will guarantee success as with any exam, and the AWS Certified Cloud Practitioner CLF-C01 exam is not mixed. While you can take some of your free time, the benefits are well worth it. In addition to demonstrating your technical skills, this certification will increase your experience and make you more attractive to potential recruits, which will only be left to advance in your career over long distances.
Tips to follow when taking the AWS Cloud Practitioner (CLF-C01) Exam
Start the test by answering the questions you are sure of. Avoid spending more time on complicated and challenging problems.
Record the time during the AWS Cloud Practitioner Exam (CLF-C01). Time management is essential as it will help you to try all of the questions.
Do not hurry; Stay steady. You have 90 minutes total time to complete the test, so take your time answering all the questions.
Not always the fact that the answer is just the best. Turn your mind and try to find the second-best answer to the question.
There is more than one question in a given query, so try to guess the problem first and then take the answer.
Depending on the type of test, the question may have multiple correct answers. Read the question and all the options at the end to find all of the correct answers.
Conclusion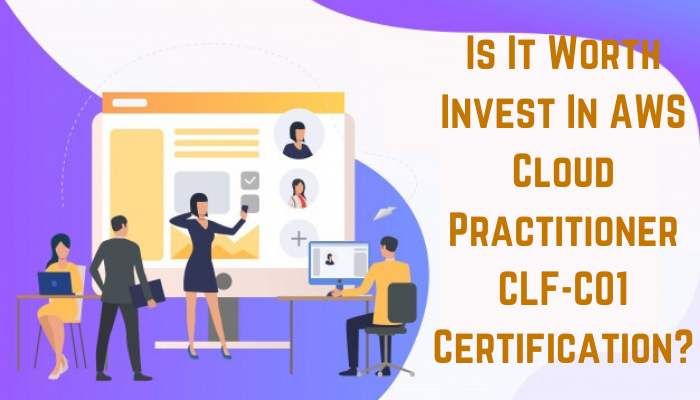 You need to know that there is no alternative way to pass the CLF-C01 test. So, get ready for the preparation as mentioned above and guidance and a step forward to take a professional cloud test. Since certification alone does not matter, but knowledge is essential, you should cover the test objectives by clarifying the concepts through detailed study materials.
Unless you are actively planning to take AWS Cloud Practitioner exam, the testing will likely be overloaded.