A Red Hat Certified Engineer (RHCE) has demonstrated Red Hat Enterprise Linux system proficiency. The Red Hat Certified System Administrator (RHCSA) is a requirement for the RHCE qualification. The RHCE certification includes various tasks like setting kernel runtime parameters, handling multiple types of system logging and providing certain kinds of network operability.
The RHCSA certification prerequisite gives a foundation for the work required to achieve the RHCE qualification. This advanced certification is meant for experienced Linux users needing to take the next step toward recognition for higher proficiency. The RCHE test is a task rather than a question based, meaning that test takers must complete a series of actions instead of only demonstrating knowledge through a multiple-choice exam. Those who pass the test receive RHCE certification, which continues valid for three years.
Linux affiliates offer different types of training to prepare students for the RHCE, which gives a range of professional benefits. Qualified RHCEs are eligible for the distinguished Red Hat Certified Professional of the Year. Many RHCEs also have stated that the certification is a valuable resume buffer.
Red Hat is famous in the enterprise world because the application vendor that provides support for Linux needs to write documentation about their product. They usually choose one (RHEL) or two (Suse Linux) distributions to support.
Why We Choose RHCE Certification?
Red Hat's RHCE is a hands-on exam that tests the fundamental skills of Linux engineers. The exam validates that experienced Linux administrators can work with a wide range of services commonly used on Red Hat Enterprise Linux.
If you require to increase your skills and knowledge in Linux system administration and automation segments, you can opt for this program.
Those IT professionals are ready to automate Red Hat Enterprise Linux tasks, integrate Red Hat developing technologies, and apply automation for performance and innovation.
The performance-based Red Hat Certified Engineer (RHCE) exam for Red Hat Enterprise Linux 8 (EX294) tests your knowledge and skill in handling multiple systems using Red Hat Ansible Engine and executing everyday system administration tasks across several systems with Ansible. The skills tested in this exam are the foundation for system administration across all Red Hat Products. Bypassing this RHCE exam, you become a Red Hat Certified Administrator.
Is RHCE a Good Certification?
The Red Hat Certified Engineer, also recognized as RHCE, is a highly valued certification course that enables the understanding, knowledge, and operational skills needed to manage and administer the Red Hat Enterprise Linux system.
The RHCE certification provides experienced system administrators to develop their knowledge and better know the capabilities of Redhat Linux OS. With well-laid-out study materials and a certificate from a highly reputed organization, the RHCE certification will provide you with better preparation for the competitive Job Market.
After Completing the RHCE certification, you will be ready to scale your career as a Senior System Administrator in Fortune 500 Companies and other Multinational companies which practice Linux based architectures in their cloud architecture and virtual machines.
With more Enterprises and organizations opting for IoT and cloud-based systems in the future, providing yourself with an RHCE certification will set you up for success in the long run.
RHCE certification is one of the most valued of all Linux certification programs. With an Always up-to-date syllabus and a collection of world-class study materials, RHCE certification is among the most sought-after recruiters.
Final Tips for Becoming a Red Hat Certified Engineer
We know that getting an RHCE certification can be challenging. But here are some tips that will aid you to avoid the common mistakes System administrators make in an RHCE certification:
Take some time to assume the tasks and Objectives of the exam.
Do not Rush into the exam, as functions might be interdependent.
Review your studies before you turn in your final results.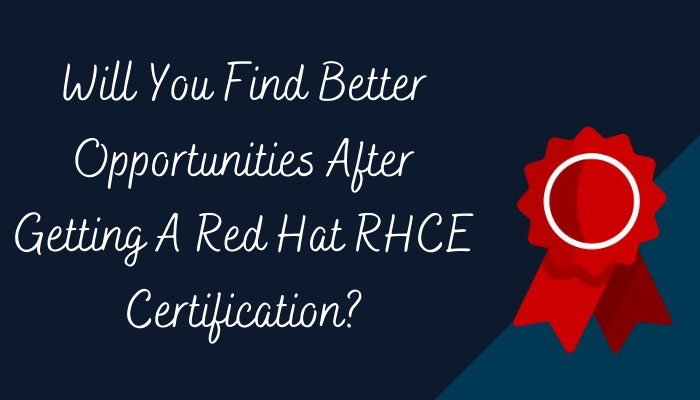 To pass, you should maintain your limited time on the exam by taking the fast track and remembering the proper references. Before you start, make sure to have a clear picture in mind of what you are supposed to do. Start by building a necessary setup and work from there. Finally, always check your assumptions.
Conclusion
RHCE Certification is a strong footprint in professionals, with a vision to spread knowledge and achieve a premier position by offering its students the best quality training and learning. We hope this gave you an Idea of the RHCE certification and enables you to ace the preparation with ease.