Deploy and Manage Citrix ADC with Traffic Management 1Y0-241 Exam
The Citrix 1Y0-241 exam was developed to measure the minimum knowledge and skills needed to implement Citrix ADC 13 solutions. Passing this exam means a candidate showed the minimum necessary knowledge and skills required of Citrix networking professionals who can install, configure and operate Citrix ADC 13 in enterprise environments. The tasks tested in this exam will mean those skills considered most important, based on high criticality ratings, to complete the job of networking and traffic optimization with Citrix ADC.
Citrix Certified Associate – App Delivery and Security (CCA-AppDS) Exam
The Citrix Certified Associate – App Delivery and Security (CCA-AppDS) validates the knowledge and skills required by network administrators and engineers to execute and manage Citrix ADC for traffic management, load balancing, content switching, and SSL offloading or manage enterprise environments consisting of Citrix ADC and Citrix Gateway for secure remote entry to desktops, applications, and data.
There are two paths to help you get CCA-AppDS Certification in the following:
Option 1:
Prepare with the recommended training: CNS: 225 Deploy and Manage Citrix ADC 13.x with Traffic Management.
Review the associated 1Y0-241 exam Prep Guide.
Pass 1Y0-241 Deploy and Manage Citrix ADC 13 with Traffic Management.
Option 2:
Prepare with the recommended training: CNS-227: Deploy and Manage Citrix ADC 13.x with Citrix Gateway.
Review the 1Y0-231 Exam Prep Guide.
Pass 1Y0-231 Deploy and Manage Citrix ADC 13 with Citrix Gateway.
How Do You Prepare for the Citrix 1Y0-241 Exam?
You already have an idea of Citrix's various certification courses and an overview of the course's skills. Now let us tell you how you can ace the Citrix 1Y0-241 exam:
1. Study the Citrix 1Y0-241 Exam Pattern
Though Citrix provides various resources to learn about the platform services and satisfy frequent use cases, it can get overwhelming to follow Citrix 1Y0-241 certification questions. It is easy to feel lost wondering where to start what to study. So study the exam pattern and follow the study guide supplied by Citrix itself.
2. Self-Study Is Good, but Online Course Platforms Are Great!
Self-study is good, but why not cement your prospects of better grasping Citrix concepts by reaching out to professionals who have real-time knowledge. Moreover, the study guide or materials that you get from e-learning platforms can be used at your comfort with the additional benefit of having someone recognize and fill the gaps in your knowledge and skills.
3. Take Citrix 1Y0-241 Practice Exams Seriously
There are several online mock exams for Citrix 1Y0-241 certification questions. Practice them and determine your strengths and weaknesses in preparation for the exam. All these online practice exams are representative of the real exam, so they can give you a real-time experience of cracking exams with the same challenging questions. You can either purchase them or utilize them online for free.
4. Tackling Questions in Citrix 1Y0-241 Exam
No one knows if there is a negative marking in the 1Y0-241 test or not. Some folks at Citrix would know. But general opinion means that there is no penalty for giving a wrong answer. You should answer all the questions even if you are unsure about the answer. Citrix 1Y0-241 is a timed test. On top of that, some of the questions are very long. Sometimes, to complete a question, we skim some statements. And this may demonstrate to be very costly.
5. Form a Study Group
The applicants may form a study group to help study planning, practice mock tests, and exchange knowledge and experience. Even it also allows others to go in for the course.
6. Citrix 1Y0-241 Exam Training
The aspirant can opt for Citrix 1Y0-241 exam training if they are beginners in project management, studying for jobs, or just out of college. This exam preparation training facilitates appearing in the exam and preparation.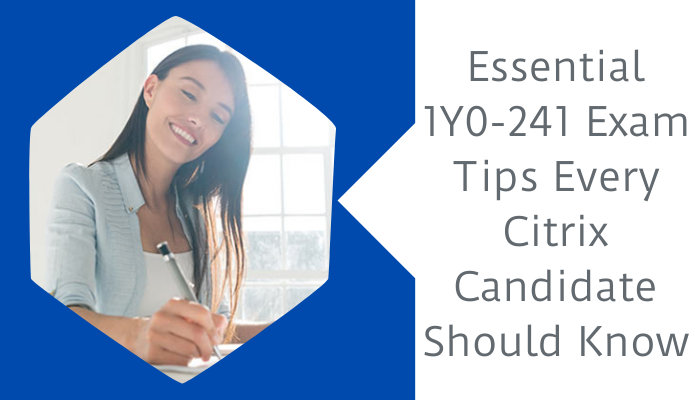 7. Manage Your Pace
Just as you had a plan to study for your exam, budget your exam time. Three hours sounds long, but it can pass by quickly, and you require to use your time wisely. If you are prone to rushing when nervous, take a moment once every ten questions and take a couple of slow, deep breaths. This exercise allows your brain has the oxygen it requires and may help you focus. The more relaxed you are, the better you will do. If you discovered during your practice exams that you struggle to finish the whole exam in three hours, keep track of your pace so you can change if you require to.
Conclusion
The Citrix 1Y0-241 Certification means a boost and growth in a professional career. It is an accessible challenge, although it requires work, dedication, and some discipline. And as a challenge, it is exciting. The satisfaction when you complete it will be very astounding. The best of all is that this will be the start of many possibilities for professional growth. So, stop thinking about the Citrix 1Y0-241 pass rate and work harder towards your goal.