VMware 2V0-41.20 Certification
The 2V0-41.20 certification demonstrates you can transform the economics of network and security operations for your company. The VCP-NV 2022 certification validates your ability to install, configure, and administer NSX virtual networking implementations, regardless of the underlying physical architecture. The current VCP-NV 2022 exam is 2V0-41.20, which covers NSX-T 3.0. This is important to recognize when pursuing a Professional VMware NSX-T Data Center certification.
The Professional VMware NSX-T Data Center (2V0-41.20) checks the participants' knowledge of configuring, installing, and administering a VMware NSX environment. The candidates are required to demonstrate mastery of these skills and abilities.
By following this VMware course, the candidates learn the skills and techniques required to understand the VMware NSX Technology and Architecture. Now the candidates will also be able to learn to differentiate between Physical and Virtual Network Technologies. They also become familiarized with the VMware NSX Integration with vRealize Automation (vRA).
Professional VMware NSX-T Data Center Professional 2V0-41.20 certification acts as both a mark of legitimacy and an industry standard; it must be regularly updated and prepared to keep up with new developments in the industry. You will need appropriate study materials for VCP Network Virtualization 2V0-41.20 certification.
This is the best place to start if you want your first Professional VMware NSX-T Data Center certification. This is your guide to precisely what you will discover on the VCP-NV exam. You must understand and feel comfortable with each area of the exam guide, which you may also hear as a blueprint before taking the Professional VMware NSX-T Data Center certification exam.
To go along this VCP-NV 2022 certification path, candidates must display skills for designing, installing, configuring, and operating VMware NSX environments. This certification track needs hands-on vSphere, NSX experience, and related technologies. Candidates must follow a mandatory training course and clear the VCP-DV qualifying exam.
Preparing for the 2V0-41.20 VCP-NV 2022 Exam
A VMware Certified Professional – Network Virtualization 2022 (VCP-NV 2022) exam comprises 70 questions. As a candidate, you get 135 minutes to answer all the questions. The 2V0-41.20 certification exam is rated on a scale of 100 to 500, and you must score at least 300 to clear the exam. The VCP exam also has a waiting period of seven days in case you do not clear the exam and wish to retake a proctored exam. For non-proctored exams, this waiting period is not there.
A 2V0-41.20 exam costs USD 250 per attempt. However, additional costs are concerned with supplementary study materials and training courses. VMware provides exam preparation packages for the standard vSphere Foundation exam and every specialized track. These exam e-learning packages comprise comprehensive exam content reviews with experienced VMware instructors.
Besides preparing through VMware-sponsored resources like VMware Learning Zone and the Community, you must also look at the official format of the VCP-NV 2022 certification exam. It helps to complete practice exams online, join a VCP-NV 2022 study group and create a lab environment for testing unfamiliar tools and configurations.
You can use the official website of Pearson VUE to review exam options, locate testing centers and register for your VCP exam.
Benefits of Becoming a 2V0-41.20 NSX-T Data Center Professional
There are several benefits of a VCP-NV 2022 certification:
This contains access to VMware official transcripts, usage rights over VCP certification logos, and beta exam and class invitations.
You also get a digital badge from VMware, VMware Press discounts, and admissions to VMware events at discounted rates.
A VCP-NV 2022 certification helps improve the career prospects of certified candidates. Most organizations use VMware administrators and technicians to have official certificates, and certification is a remembered way to validate an employee's skills and prove them to clients.
Most IT professionals with a VMware certification take up roles like IT managers, system engineers, and system administrators.
A 2V0-41.20 certification is also a path to higher salary and payment opportunities.
Many discussions revolved around VMware certifications and their value in today's digital world.
Earning a VMware 2V0-41.20 certification provides the best means for continuing education and maintaining your technical skills in the fast-paced world of technology. Professionals with these certifications have a benefit in terms of salary, position, and status.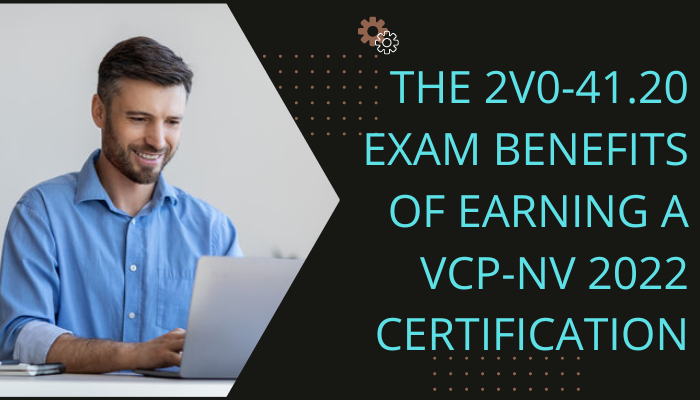 Summary
If you want to pass your VMware 2V0-41.20 Certification exam quickly and easily without much effort, then this is just what you need! With some steps, you can give the 2V0-41.20 exam and succeed in your life!