The Google Cloud Certified Professional Cloud Network Engineer certification provides you with the proper skill set to become a cloud network engineer on the GCP. Learn the skills such as implementing Virtual Private Cloud (VPC), hybrid connectivity, and configuring network services securely for established network architectures on GCP.
You will design, plan, implement, and manage network architectures and provide cost-effective and performant networking solutions to your organization. This certification also allows you to apply for several cloud network engineer positions in top-tier companies that use GCP, such as PayPal, The Home Depot, Accenture, Tech Mahindra, and many others.
A Professional Cloud Network Engineer implements and manages network architectures in the Google Cloud Platform. This individual has at least one year of hands-on experience working with the Google Cloud Platform and may work on networking or cloud teams with architects who design the infrastructure.
As cloud technology continues to grow, networking professionals must understand how to design, implement and manage networks on the cloud, mainly as it requires a different framework and mindset from networking on traditional on-premises settings.
You will understand the basics of Google Cloud infrastructure and learn to design, plan, and prototype a network on GCP. After implementing a Virtual Private Cloud, you will configure network services and implement hybrid connectivity. You will also get to grips with network security and learn to handle and monitor network operations in GCP. Finally, you will learn to optimize network resources and explore advanced networking.
Professional Cloud Network Engineer certification is one of the most valuable certifications of Google. It validates the skill of the candidates that is necessary to succeed in the Cloud Network Engineer role. This certification mostly validates the candidate's knowledge about the Professional Cloud Network. They must have at least one year of practical experience working with the Google Cloud Platform, and they may work on networking or cloud teams with architects who design the infrastructure. The exam that you need to pass to become certified with the Professional Cloud Network Engineer certificate is the Professional Cloud Network Engineer exam.
Google Professional Cloud Network Engineer Duties & Responsibilities
To write an adequate cloud network engineer job description, begin by listing detailed duties, responsibilities, and expectations. We have included cloud network engineer job description templates that you can modify and use.
Sample responsibilities for this position include:
Develop network evolution roadmaps.
Collaborate with network engineering and network/security operations teams.
Continue to bridge the gap between development and operations with a strong bias towards Infrastructure as Code.
Embrace the 'feedback loop' by engaging with diverse engineering teams to transform concepts, requirements, and telemetry into services and tools.
Passionate about learning and adopting new technologies that will ease your day-to-day job.
Periodic on-call duties to supply application support, incident management, and troubleshooting.
We are designing network solutions with Firewall and Network components per Target architecture and internal standards to meet the connectivity needs of internal customers.
Engage and influence within the Cloud network security and broader engineering groups to champion best practices and collaborative work streams.
Maintain enterprise network security design standards.
Ensures compliance to defined Network Engineering Processes/Procedures.
GCP-PCNE helps you in achieving your desired pay-check digit in a short period. Because of its role in companies, Google Cloud Network Engineer is in demand, and another advantage is a shortage. Due to the switching of banks and equity funds to the cloud, employers are looking for the ones who are well-versed in networking.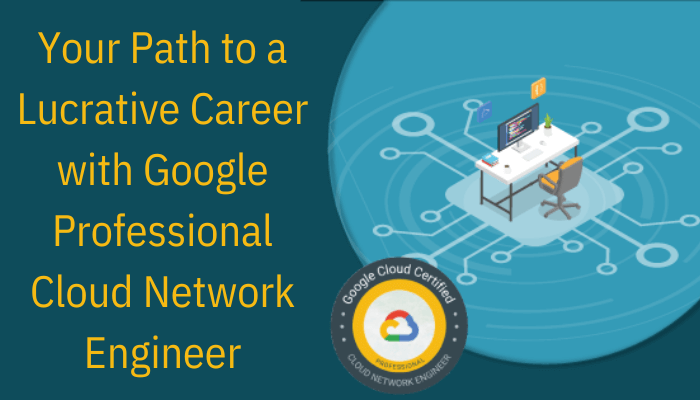 Summary
There are many ways for motivated people to change their lives and land a job as a network engineer. Doing so will allow you to make a good living and work with some fantastic technology. Getting there is up to you. Whether it be self-study, college, or the military, if you genuinely want to work as a network engineer, there is a way. You have to do it with passion and determination.
Google Cloud Network Engineer is one of the toughest exams of all other Google certifications. Though many certificates are available, Google Cloud certifications make you stand out. It lets you showcase yourself in the market and show that you are eligible for what they are looking for.
Furthermore, acquiring 2-3 certifications under your belt provides job security, and developing networking skills in your belt will make you feel professional.