Suppose you are working as an established SAS Statistical Business Analyst or just starting in the industry. In that case, you may have considered a more formal way to learn SAS, including SAS programming and earning your SAS A00-240 certification. If you need motivation, consider some of the many advantages of obtaining your SAS A00-240 certification.
Learning SAS Statistical Business Analyst is no complicated job, and some of the most advanced SAS programming specializations can be completed in less than 20 weeks. If you are looking to learn well sufficiently to be able to work on professional SAS-based projects, a month of learning is more than enough to get you started.
What Is the SAS Statistical Business Analyst Exam About?
Since SAS Statistical Business Analyst is the center of an article today, it is wise to understand the key aspects which describe it.
It considers the candidates' knowledge based on the following topics:
10%: ANOVA.
20%: Linear regression.
25%: Logistic regression.
20%: Prepare inputs for predictive model performance.
25%: Measure model performance.
The SAS A00-240 exam is designed to have 60 multiple-choice questions, which are done within 2 hours at $180. All the questions are evenly distributed in the above topics. To pass the SAS Statistical Business Analyst exam, you need to gain 68%.
Effective Way to Prepare: How SAS A00-240 Practice Exam Can Help You
Complete preparation for the assessment is the key to passing it. There are many methods of studying and training, but we especially guide practice exams. These are proven questions with answers that can be worked out in a unique SAS A00-240 exam simulator.
Becoming a Statistical Business Analyst is always a challenging role. It needs you to have profound knowledge in all aspects related to database development. Below, you will find the tips to use if you are planning or thinking of getting such a position:
1. Create a SAS Statistical Business Analyst Study Plan
As mentioned earlier, passing the A00-240 exam will take a lot of work, so you should be well-prepared. The exam is not impossible by any means, but it does need a bit of seriousness. The first step in your preparation is to create a proper plan of study to cover all the topics in the test. Note that each topic is divided into subtopics, and your task is to study and practice them. The sooner you start your preparation, the more competent you will be.
2. Find the Right Place to Study
The environment you are studying in plays an important role. If it is a quiet place, you feel comfortable there, and nothing distracts your attention, you will learn all the concepts and information quickly and thoroughly. You will cover all the topics in the exam and have time to practice or revise the material as often as possible. The main thing is to study in a place where you can easily focus on the material you need to learn.
3. Practice to Be Perfect
There is nothing more critical for a SAS Statistical Business Analyst than practicing to implement the key concepts. When preparing for an A00-240 certification exam, you need to treat practice questions like a treasure because they are so. If you take the A00-240 practice exams, you will be able to assess your knowledge before the SAS A00-240 exam.
4. Look for the Right Material
One mistake many people make when studying for a certification exam is that they need help finding the best study material. The material you are using will significantly impact the outcome, so getting your hands on the right stuff is essential. Fortunately, the SAS A00-240 exam is widespread, and you can search the Internet to find suitable material for your preparation process. Thus, the A00-240 exam has a premium bundle. This bundle contains practice questions with checked answers, and a study guide.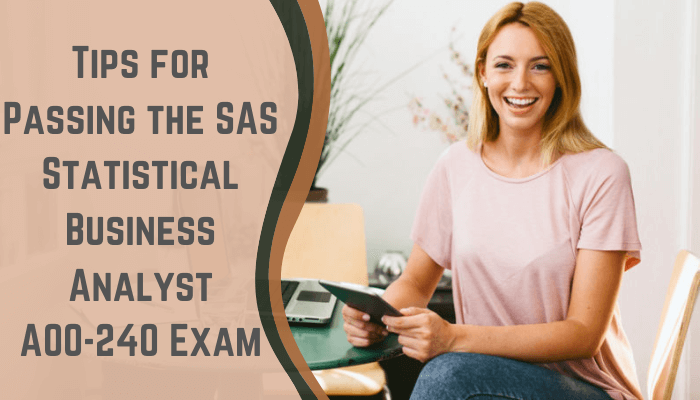 Conclusion
SAS Statistical Business Analyst is a significant role that never ceases to be in demand because every business consists of data. Using these tips, you can quickly become a SAS Statistical Business Analyst. The first step for building such a career is an A00-240 exam, for which you can adequately prepare using the A00-240 practice exams from AnalyticsExam. This exam equips you with the ultimate skills and knowledge for A00-240.
Make a choice and register for this exam as soon as possible!