Tableau Data Analyst Certifications help professionals in information and technology (IT) substantiate their knowledge and expertise in using Tableau for data analytics. Organizations globally accept a Tableau Certified Data Analyst exam as a valid accreditation to consider your ability to understand, organize and analyze data. Learning about the various certifications and their relevance to your job role may help you identify a certificate to help you advance your career.
Tableau Data Analyst certification can have long-term advantages because the software is essential to analytics and business intelligence. Its foundational features and interface have stayed the same over the years.
What Is A Tableau Certified Data Analyst Certification?
A Tableau Certified Data Analyst Certification displays your proficiency in using the analytics platform for managing data, creating visualizations, and deriving data-driven insights. Data analysts, data scientists, students, or executives use insights from Tableau to make business decisions and easily collaborate with stakeholders.
It is an end-to-end data and analytics platform that provides ethical data management, governance, data storytelling, and visual analytics using artificial intelligence-driven statistical modeling. It delivers efficiencies of scale while being secure and compliant with data management policies.
Tableau Certified Data Analyst
The Tableau Data Analyst certification is a 120-minute examination with a mix of multiple choice, multiple selections, active screen, and hands-on performance lab.
The assessment tests your expertise and practical skills through 30 knowledge-based questions and 10 to 11 tasks in the hands-on lab. You may take the certification in a testing center or even online. A Tableau Certified Data Analyst comprehends business problems, identifies relevant data for analyses, and provides stakeholders with actionable insights.
How to Determine Which Tableau Certified Data Analyst Certification Is Good?
This Tableau Data Analyst certification may help you get better opportunities and higher pay. Tableau offers several certification options that may suit you depending on your job role.
Here are some ways to decide which Certified Data Analyst Certification is good for you:
1. Define Your Career Goals
To pick a certification that may add value to your resume, determine your career goals. Analyze your industry and its trends.
Set short-term and long-term goals and choose a learning path to acquire them. Understanding your career and personal goals helps you understand the relevance of Tableau Certifications.
2. Evaluate Your Skill Sets
Create a list of your current skills and those you require to achieve your goals. Identifying areas of progress can help you upskill, define learning timelines and stay employable. If you want to change your career or move to a better job position, determine the skill gaps and relevant Tableau Certified Data Analyst Certification that may aid you in making the shift.
A data analyst works with programmers, computer engineers, and executives to design and maintain data systems for interpretation. They use statistical modeling and tools to identify trends and patterns. These insights help executives make business decisions.
3. Explore Tableau Certified Data Analyst for Your Role
Tableau offers role-based and specialized certification options. These certifications come at a cost and need periodic renewal. Tableau also provides an e-learning platform you may explore if you are new to Tableau. The accreditation has no prerequisites, but the recommended experience or knowledge may improve upon completing it. Tableau also provides course material to help you prepare.
Tableau Certified Data Analyst Certification on a Resume
Tableau Certified Data Analyst certification requires a renewal examination periodically to ensure your skills are appropriate to their changing features, technologies, and industry demands. Dedicate a separate section in the resume highlighting your certification and mention its expiry date. Be transparent about the certification details to help employers determine your suitability for the job. Consider including measurable statistics to help demonstrate how you can benefit the organization if hired.
The Tableau Data Analyst Certification is also of slightly longer duration than the Desktop Specialist and almost at par with the Certified Associate.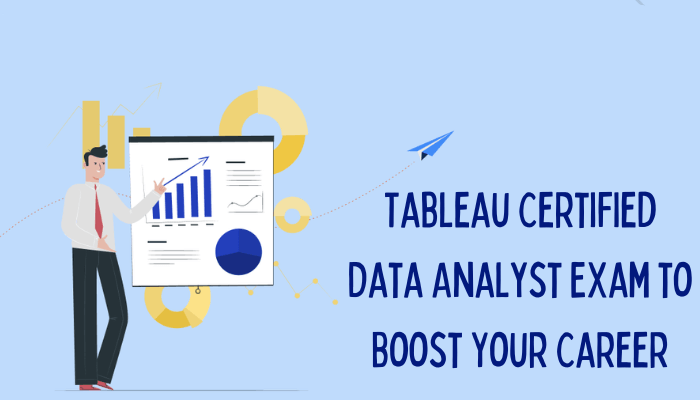 Why Be This May Tableau Data Analyst Exam Right for You?
The Tableau Data Analyst Certificate can give you the technical skills that get your foot in the door. What comes next relies on you and your ultimate data analytics career goals. Tableau Data Analyst is a field that continues to grow and is already in demand, with over one million jobs in data and business analyst roles posted on the job market in the last twelve months.
If you are looking for a flexible certificate program that allows you to transform your career and enter the field of data analytics, this might be the right program for you.