Qlik Sense and QlikView certifications are expert-level exams created for users with hands-on experience with different Qlik applications or deployments. Qlik Sense Data Architect QSDA2021 is a complete data analytics platform that sets the standard for a new generation of analytics.
QSDA2021 Data Architects create the initial drafts of data architecture and data management frameworks according to business and technical requirements. Data architects also significantly define a company's baseline policies and procedures for data infrastructure, which can help direct the work of data engineers.
Qlik Sense Data Architect QSDA2021 Certification
QSDA2021 certification is an effective way to show your knowledge and abilities in data architecture. These certifications are obtained mainly by passing a Qlik Sense Data Architect exam, though some might require completing a course first.
Who Is a Qlik QSDA2021 Data Architect?
A Qlik Sense Data Architect is an IT professional who leverages computer science and design skills to review and analyze the organization's data infrastructure, plan future databases and implement solutions to store and organize data for organizations and users.
The fact is that most companies and businesses today use data. So engineers in this field can work in almost any profession, including:
Entertainment
Technology
Finance
Health care
Government
And more
Skills Required to Become a Qlik Sense Data Architect
Qlik Sense Data Architects are highly trained workers fluent in various programming languages and other technologies. They must be good communicators with keen business insights. Data architects must pay strong attention to the fact that any coding problems can cost a business millions to repair.
Successful Qlik Sense Data Architects have several other business skills. Though they must have a depth and scope of experience in the field, data architects must also be creative problem-solvers ready to innovate new solutions and change along with developing technology.
As Qlik Sense Data Architects are often senior officials on a project, they must be able to lead team members, such as data modelers, data engineers, and database administrators. They must also be able to communicate solutions to colleagues with non-technical backgrounds. Finally, Qlik Sense Data Architects should have a deep knowledge of their particular industry, including best practices and trends for collecting, storing, and analyzing data.
How to Become a Qlik Sense Data Architect?
To become a Qlik Sense Data Architect, the minimum qualification required is a bachelor's degree in computer science, computer engineering, or a related field.
Suppose you are a fresh graduate aspiring to become a data architect. In that case, you can jumpstart with internships that provide exposure to network management and application design and advance to the role of a database administrator. Working on your skills connected to database management, data modeling, and data warehousing, you can gradually advance your career to the profile of a data architect.
Companies usually prefer a master's degree for senior positions with years of experience in data design, management, and storage work. While not every technical skill a data architect requires is taught in a single curriculum, choosing abilities relevant to the job makes sense. Alternatively, you can also take additional certifications to equip yourself.
Qlik Sense Data Architect Job Outlook
If you are a Data Architect and are preparing to move into a similar profession or alternative career, it is essential to build the right skill sets to position you for your next job.
Qlik Sense Data Architects report high job satisfaction because the role presents new and essential daily challenges. The part will undoubtedly continue to change as technology evolves, and the best data architects welcome this change by staying up-to-date with new systems and languages. Massive amounts of data are generated by the minute, and Qlik Sense Data Architects are necessary to solve problems daily, take the long view and try to visualize what problems a company will face in 3-5 years.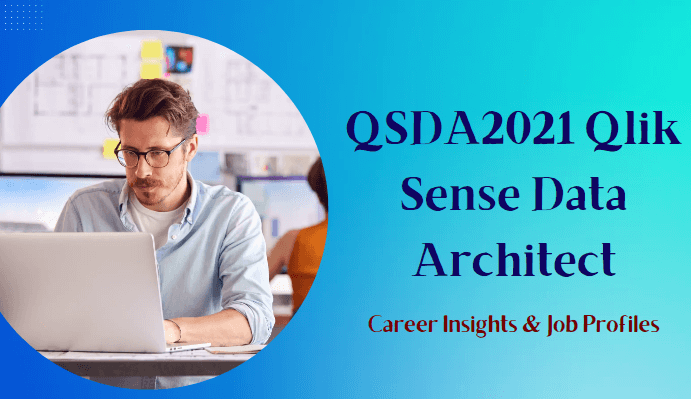 Conclusion
Qlik Sense Data Architects work on designing and developing architecture and data models used for reporting and business solutions. A data architect produces a modern enterprise data architecture that unlocks your data. They can ensure insights are easily accessible and regular.
That way, you can make confident business decisions in minutes rather than wait weeks or more for insights. Qlik Sense Data Architects shape data strategies, models, procedures, and policies that enable business growth. With them, you can reduce, access, and protect your data.