In today's fast-paced digital world, it is essential to have skills that set you apart from the competition. With the growth of cloud-based services and the increased demand for data protection and management, becoming a Veeam Certified Engineer can be a smart career move. In this article, we'll explore why becoming a Veeam Certified Engineer is a valuable investment for your career growth.
What Is a Veeam Certified Engineer?
A Veeam Certified Engineer (VMCE) is an IT professional with demonstrated knowledge of Veeam solutions and best practices. To become a VMCE, candidates must attend an authorized Veeam course and pass the associated exam. The course covers Veeam Availability Suite, Veeam Backup & Replication, and Veeam ONE, providing hands-on experience with the software.
What Is Veeam?
Veeam is a software company that provides backup, disaster recovery, and data management solutions for virtual, physical, and cloud-based workloads. The company was founded in 2006, and since then, it has become a leader in the backup and data management market. Veeam provides solutions for businesses of all sizes, from small and medium-sized enterprises to large corporations.
Why Is Veeam Important in the Industry?
Veeam's solutions are vital for businesses relying on virtualized environments. Virtualization allows companies to run multiple operating systems and applications on a single server, reducing costs and improving efficiency. However, managing virtualized environments can be complex, and the risk of data loss or downtime is high. Veeam's software solutions provide businesses with the tools to manage and protect their virtualized environments effectively.
Benefits of Becoming a Veeam Certified Engineer
High Demand: The demand for IT professionals with Veeam expertise is increasing. Companies are investing heavily in data protection and management, and Veeam is one of the most popular solutions on the market. Becoming a VMCE can open new career opportunities and help you stay relevant.
Increased Salary: According to Payscale, the average salary for a VMCE is $111,232 per year, significantly higher than the average salary for IT professionals without Veeam certification. Investing in your education and becoming a VMCE can increase your earning potential and take your career to the next level.
Better Job Opportunities: With a VMCE certification, you can access many job opportunities. You can work as a backup administrator, system engineer, technical support engineer, or solution architect, to name a few. The certification demonstrates your commitment to your profession and your ability to learn and adapt to new technologies.
Improved Skills and Knowledge: The VMCE course provides hands-on experience with Veeam solutions and covers the best data protection and management practices. Becoming a VMCE will give you valuable skills and knowledge to apply in your current or future role. You will also learn how to troubleshoot common issues and optimize Veeam solutions for maximum efficiency.
Competitive Advantage: By becoming a VMCE, you will have a competitive advantage over other IT professionals. You will be recognized as an expert in Veeam solutions, and you will be able to provide valuable insights and recommendations to your colleagues and clients. This can help you stand out in a crowded job market and increase your chances of landing your dream job.
Tips to Prepare for the VMCE Certification Exam
Preparing for the VMCE certification exam requires dedication and commitment. Here are some tips to help you prepare:
Review the VMCE Exam Topics Thoroughly: Make sure you understand all the topics covered in the exam and are familiar with Veeam Backup and Replication software.
Take VMCE Practice Exams: VMExam offers practice exams that simulate the actual VMCE exam. Practice exams can help you identify your strengths and weaknesses and focus your study efforts accordingly.
Attend Training Courses: Veeam offers classroom and online training courses that cover all the topics necessary to become a VMCE. Attending these courses can help you prepare for the exam.
Join the Veeam Community: The Veeam Community is an excellent resource for IT professionals learning more about Veeam Backup and Replication software. Joining the community can help you connect with other professionals and learn from their experiences.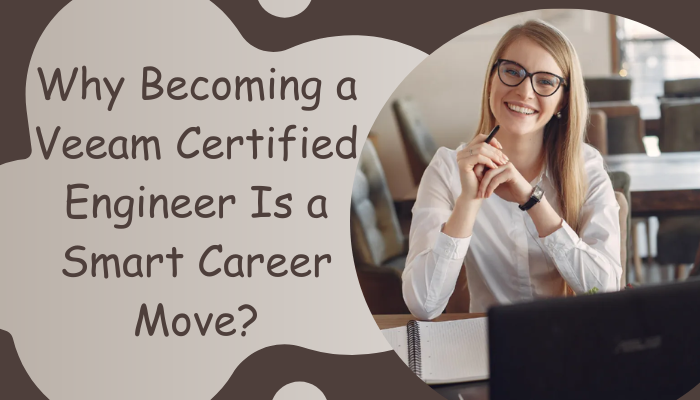 Conclusion
In conclusion, becoming a Veeam Certified Engineer is a smart career move for IT professionals who want to stay relevant and increase their earning potential. With the growing demand for data protection and management solutions, Veeam is a valuable skill. By investing in your education and becoming a VMCE, you can gain practical skills and knowledge and take your career to the next level.