Obtaining a widely acknowledged certification in advanced security administration and operations, such as the SSCP, presents an excellent opportunity for career advancement and enhancing the protection of your organization's vital resources. The SSCP certification showcases your proficiency in advanced technical abilities and expertise in implementing, monitoring, and administering IT infrastructure with cybersecurity best practices and policies endorsed by (ISC)²'s cybersecurity experts.
The ISC2 SSCP certification validates that you possess the advanced technical expertise and knowledge required to effectively implement, monitor, and manage IT infrastructure utilizing security best practices, policies, and procedures established by the cybersecurity specialists at ISC2.
Who Is the SSCP Certification For?
The SSCP certification is well-suited for IT administrators, managers, directors, and network security professionals accountable for the practical operational security of their organization's crucial assets. This includes individuals holding various roles, such as:
Network Security Engineer
Systems Administrator
Security Analyst
Systems Engineer
Security Consultant/Specialist
Security Administrator
Systems/Network Analyst
Database Administrator
Prerequisites
To be eligible for the SSCP certification, candidates must possess at least one year of paid work experience in one or more of the seven domains covered in the SSCP CBK® (Common Body of Knowledge). Alternatively, individuals who have obtained a degree (bachelor's or master's) in a cybersecurity program will be granted a one-year prerequisite pathway toward meeting the experience requirement.
If a candidate lacks the requisite experience for obtaining SSCP certification, they can become an Associate of (ISC)² by passing the SSCP exam successfully. As an Associate of (ISC)², they can then gather the required work experience to attain full certification status.
SSCP Exam Details
The SSCP exam includes 150 questions in either multiple-choice or multiple-response formats. Candidates are allotted 4 hours to complete the exam, costing $249. Additionally, the exam is offered in various languages, including English, Chinese, German, Japanese, Korean, and Spanish.
SSCP Domains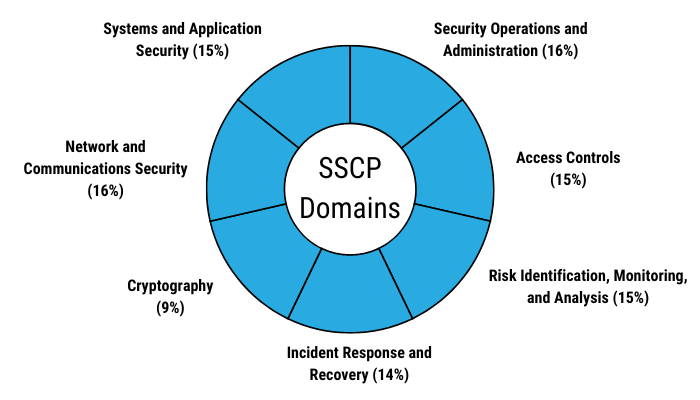 Security Operations and Administration (16%)
Access Controls (15%)
Risk Identification, Monitoring, and Analysis (15%)
Incident Response and Recovery (14%)
Cryptography (9%)
Network and Communications Security (16%)
Systems and Application Security (15%)
Top 5 Tips to Pass the SSCP Certification Exam
Like any certification exam, proper preparation is vital to success. This comprehensive guide explores five tips to help you confidently pass the SSCP exam and achieve your career goals.
1. Explore the ISC2 Official Website
The International Information System Security Certification Consortium (ISC2) is the organization responsible for administering the SSCP exam. Exploring the official ISC2 website is the first step in your exam preparation journey. The website provides valuable information about the exam format, registration process, and key exam domains. Familiarize yourself with the exam outline and understand the topics covered in each domain. This will help you tailor your study plan and focus on areas that require more attention.
2. Obtain Official ISC2 SSCP Study Guide
The ISC2 offers an official SSCP study guide that is a comprehensive resource for exam preparation. Industry experts write the study guide covering all the relevant topics in the exam syllabus. It provides in-depth explanations, real-world examples, and practice questions to gauge your understanding. Investing in the official study guide is wise as it ensures you receive accurate and up-to-date information directly from the source.
3. Take an Online Course
While self-study is essential, enrolling in a reputable online SSCP course can significantly enhance your preparation. Online courses complement the official study guide and offer interactive learning experiences. Look for courses conducted by certified instructors with hands-on industry experience. A well-structured online course will cover all the exam domains in detail, provide practical scenarios, and offer opportunities for peer discussion. Remember to check for reviews and testimonials from previous course participants to ensure the course's quality and effectiveness.
4. Join an Online Community
Being part of an online community dedicated to SSCP exam preparation can be highly beneficial. These communities provide a platform to interact with other exam takers, share knowledge, seek advice, and discuss challenging topics. Discussions can give you fresh perspectives and insights into various cybersecurity concepts. Additionally, online communities often share valuable resources, study materials, and practice tests. Active participation in such groups can keep you motivated throughout your preparation journey.
5. Take SSCP Practice Test
Engaging in SSCP practice test is a valuable means to acquaint yourself with the exam format and ready yourself for the question types you'll encounter during the actual test. Additionally, it serves as an effective tool to pinpoint any knowledge gaps that require further attention. Edusum provides SSCP practice questions, which offer an ideal opportunity to assess your comprehension of the exam material and identify areas that require improvement after you've begun your revision.
Advantages of Obtaining SSCP Certification
Becoming certified as an SSCP offers several potential benefits for eligible candidates, presenting opportunities for well-paid, sought-after positions. Obtaining the SSCP certification also provides the following advantages:
Acquire New Advanced Skills that Enhance Job Performance.
Validate Your Cybersecurity Proficiency and Dedication to prospective employers and recruiters.
Enhance Your Resume to Increase Your Attractiveness in the job market.
Fulfill Security Clearance Criteria.
Gain Entry into a Community of Fellow Cybersecurity Professionals.
Career Options for Those Holding an SSCP Certification
Obtaining the SSCP certification can significantly enhance the knowledge of IT professionals in the realm of cybersecurity. Those who hold this certification can climb the career ladder, gaining access to promotions and improved salary opportunities.
This ISC2 certification is recognized as one of the leading certifications for entry-level professionals. It equips individuals with the technical expertise and hands-on experience needed to implement data security techniques and methodologies within organizations effectively.
Here are some job positions listed on LinkedIn that require or prefer candidates with SSCP certification:
Network analyst: $87,452
Security analyst: $109,545
Threat intelligence analyst: $112,745
Systems administrator: $97,195
DevOps engineer: $102,579
Security engineer: $117,405
Systems engineer: $103,526
Conclusion
In conclusion, passing the SSCP exam requires dedicated preparation and a well-structured study plan. You can maximize your chances of success by exploring the ISC2 official website, obtaining the official SSCP study guide, enrolling in an online course, joining an online community, and taking practice tests. Remember that the journey to becoming an SSCP-certified professional is a learning experience. Embrace the knowledge gained throughout your preparation, and remember to stay consistent and motivated.