Big Data Analytics offers a nearly unlimited source of business and informational insight, leading to operational improvement and new opportunities for companies to give unrealized revenue across almost every industry. The value is hidden in company data, from use cases like customer personalization to risk mitigation, fraud detection, internal operations analysis, and all the other new use cases arising near-daily. Companies are looking to build a cutting-edge analytics operation.
Discovering value within raw data poses many challenges for IT teams. Every company has various requirements and different data assets. Business leadership changes quickly in an ever-accelerating marketplace, and keeping up with new directives can need agility and scalability. On top of that, a successful Big Data Analytics operation requires immense computing resources, technological infrastructure, and highly skilled personnel.
In-demand Big Data Analytics Certifications
Many certification options can get you started if you want to work with big data and data analytics. These certifications will assist you in gaining experience and skills that may aid you in getting a higher salary. Here are standard Big Data Analytics certifications that can help you meet your career goals:
CompTIA Data+
Cloudera Certified Associate (CCA) Data Analyst
Microsoft Certified: Data Analyst Associate
Certified Analytics Professional (CAP)
Certification of Professional Achievement in Data Sciences
Why Is Big Data Analytics Important?
Big Data Analytics benefits organizations by harnessing their data and using it to recognize new opportunities. That, in turn, leads to more innovative business moves, more effective operations, higher profits, and happier customers.
Analyzing data faster can significantly benefit an organization, allowing it to use data to answer essential questions efficiently. Big Data Analytics is great because it lets organizations use large amounts of data in multiple formats from multiple sources to identify opportunities and risks, helping organizations move quickly and grow their bottom lines.
Some benefits include:
Cost reduction. Big data technologies such as Hadoop and cloud-based analytics bring significant cost benefits when storing large amounts of data – plus, they can identify more effective ways of doing business.
Faster, better decision-making. With the speed of Hadoop and in-memory analytics, combined with the knowledge to analyze new data sources, businesses can analyze information immediately – and make decisions based on what they have learned.
New products and services. Davenport points out that more companies create new products to meet customers' needs with Big Data Analytics. With the ability to gauge customer requirements and satisfaction through analytics comes the power to give customers what they want.
The Big Challenges of Big Data Analytics
Big data brings considerable benefits, but it also brings significant challenges such as new privacy and security matters, accessibility for business users, and choosing the right solutions for your business needs.
To obtain incoming data, organizations will have to address the following:
Making big data accessible. Collecting and processing data becomes more complex as the amount of data grows. Organizations must make data accessible and convenient for data owners of all skill levels to use.
Maintaining quality data. Organizations are using more time than ever before scrubbing for duplicates, errors, absences, conflicts, and differences with so much data to keep.
Keeping data secure. As the number of data rises, so do privacy and security concerns. Organizations will require to strive for compliance and put tight data processes before taking advantage of big data.
Getting the right tools and platforms. New technologies for processing and analyzing big data are developed all the time. Organizations must obtain the right technology to work within their established ecosystems and address their particular requirements. Often, the right solution is also a flexible solution that can accommodate future infrastructure changes.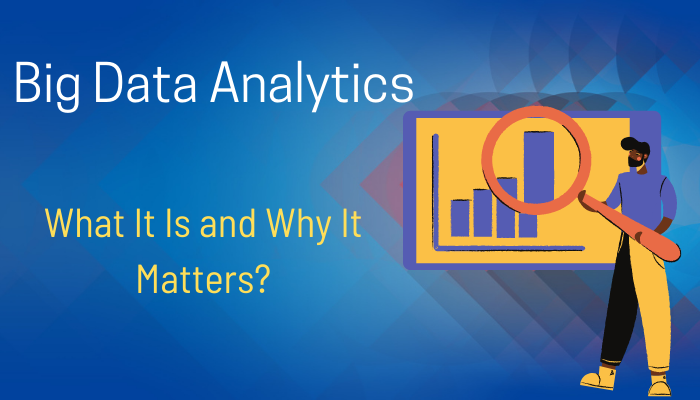 Conclusion
In the present scenario, data plays an essential role in the success of a business. Organizations are in the utmost necessity to hire professionals who can interpret this data and put it to good use. As career opportunities in data science and data analytics continue to grow, the requirement for professionals with enough skills and knowledge is simultaneously increasing.
I hope these best Big Data Analytics Certifications for Beginners will help you enhance your data analytics skills.