Google has recently released a new certification. This Google Cloud Digital Leader certification is a perfect entry point into the Google Cloud Platform for technical, commercial, or managerial roles. This article is a quick guide to preparing for the Google GCP-CDL exam.
What Is the Google Cloud Digital Leader GCP-CDL Certification?
According to Google, the certification is suitable for individuals in non-technical job roles who can add value to their organization by gaining Cloud knowledge and who have little or no hands-on experience in Google Cloud.
A Cloud Digital Leader's responsibility is to understand the use cases of business needs and how to use Google Cloud GCP's products and services to achieve the desired business goals. By looking at the report from the GCP team, this GCP-CDL certification would help the higher management team to make business decisions with all the facts and ideas about available GCP products. The Cloud Digital Leader GCP-CDL exam is job-role independent.
The interest in this certification is straightforward, and finally, Google Cloud has a comparative certificate to AWS's Cloud Practitioner exam. Unlike the other exams like AWS Cloud Practitioner and Azure AZ-900 Fundamentals, the GCP-CDL exam is much harder to pass, and you will have to comprehend the basic concepts of almost all the products and services in the GCP.
Who Is a Cloud Digital Leader?
A Cloud Digital Leader is someone who can identify and investigate the various capabilities of Google Cloud core products and services, as well as how they may be used to fulfill specific business goals. A Cloud Digital Leader is well-versed in cloud computing foundations and can exhibit different cloud computing competence in multiple situations.
They also have the capacity to:
They describe the capabilities of Google Cloud's primary products and services and how they assist organizations.
Explaining how cloud technology might allow a firm to flourish by defining common commercial use cases.
How to Prepare Google Cloud Digital Leader GCP-CDL Exam?
This section includes essential tips and tricks to pass this GCP-CDL certification exam.
1. Understand the GCP-CDL Certification Content and Exam Format
Familiarize yourself with the syllabus topics in Google's Cloud Digital Leader certification exam study guide. The 90-minute exam tests your ability to use Google Cloud products and apply cloud solutions for real-world technical scenarios.
2. Develop Your Understanding with Instructor-Led Training and Learning Paths
The Google Cloud Digital Leader GCP-CDL certification exam is a tough cookie to crack. We advise exam preparation through industry-guided tutorials, videos, and GCP-CDL practice exams. Look for credible, and GCP Certified experts with decades of hands-on experience to guide you in the right direction.
You have multiple options to prepare for the Cloud Digital Leader certification exam as a candidate. Do your homework and prepare a potential list of training and boot camps. Spending some money on quality exam preparation is always better. Instead of failing repeatedly, a small investment in personal skill-building can take you further in your professional career.
3. Carefully Picking a Reliable Learning Resource
No matter which learning resource you decide to prepare for your Cloud Digital Leader certification exam, select high-quality and carefully hand-selected content that takes care of your learning capabilities. Before beginning training, consider all learning resources' pros and cons.
Finally, do not consume content from multiple courses simultaneously to avoid confusion. Training courses will not teach you everything, which is why self-study is vital. Read different GCP-CDL case studies and white papers to improve your understanding of the Google Cloud.
4. Practice with GCP-CDL Mock Exams
Like any other exam, practicing for the Cloud Digital Leader certification exam is vital. GCP-CDL mock exams are an excellent place to acquaint yourself with exam format and weightage. Plus, good practice exam scores can increase your confidence manifold.
Try to maximize your mock test scores before trying the actual GCP-CDL exam. You can try some sample practice questions for the Cloud Digital Leader exam from Google right away if you want.
5. Join a Community
Tech communities deliver a vibrant environment with a mix of determined practitioners and industry experts. If you have any confusion or require some motivation, you can post your questions on multiple online community platforms to learn from experienced peers. Some of your queries might have been answered already.
6. Finally, Schedule a Google Cloud Digital Leader Exam
Once you are confident sufficiently to pass the Google Cloud Digital Leader certification exam, register yourself and schedule the exam. Candidates can take a remote-based online-proctored exam, or they can give the exam onsite at a testing center if applicable.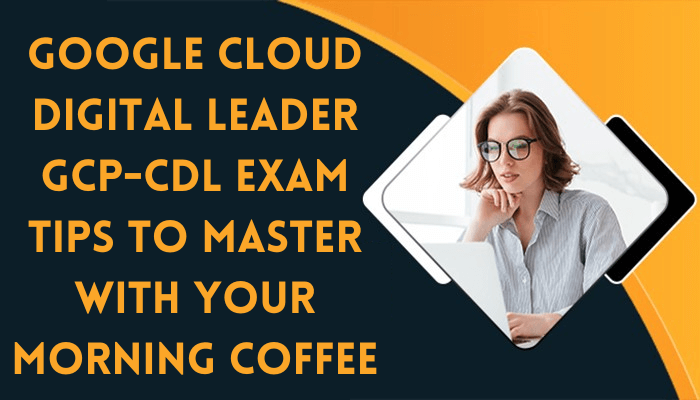 Summing Up
This GCP-CDL exam will put your knowledge, skill, and ability to collaborate to the test. Take the time to make a study plan and pattern relying on the materials, and start preparing step by step. Take practice exams, but do not forget to review.
Last but not least, take the test and pass it!