Today, the world's enterprises are experiencing a digital transformation. And cloud computing, growing at a much higher speed than IT as a whole, is a crucial factor in that transformation.
With its robust growth, Salesforce drives the growth of cloud computing.
What Is Salesforce Field Service Consultant?
Salesforce Field Service Consultant is a management software to enhance customer experience through field services. One of the major benefits of using Salesforce CRM is the 360-degree information analysis of customers. Now, the information is regularly traced and schemes are prepared based on the collected data. With Field Service Lightning, the pieces of information can be quickly transported to the service team working on-field. Salesforce also provides a Field Service learning map, which is a useful resource for guiding you down the path to Field Service success.
The Salesforce Field Service Consultant exam is intended for consultants with the required experience in implementing Salesforce Service Cloud and Field Service. Additionally, as a Consultant, you will be required to design and deploys solutions that support customer business processes and requirements using the Field Service Lightning product. Also, it will be your responsibility to manage packages and the Field Service Mobile application. Furthermore, as a Field Service Consultant, you should have field service industry experience, mobile solution expertise, and a solid understanding of the Salesforce core object model.
Salesforce Field Service Consultant Exam Details
Salesforce provides the Field Service Consultant exam questions. There is 60 score of multiple-choice/multiple-select questions and up to 5 blanks – the 105 minutes of exam time. The minimum percentage required to pass is 63%. The registration cost is USD 200 plus any taxes due per state or federal regulations. The retake price is USD 100 plus any taxes that must be paid per regional legislation.
The prerequisites for this certification are the Salesforce Administrator and Salesforce Service Cloud Consultant credentials. You can take your proctored exam in a testing facility or take it in a secure online testing environment. No printed or electronic sources may be used at any time during the exam.
Benefits of Choosing Field Service Consultant Exam
After getting a Field Service Consultant certificate, individuals become specialists in all these for the organization. Customers' Field Service Management initiatives are handled effectively due to the company's proactive customer engagement. You question the customer's status quo and operating methods. Have the expertise to translate customer goals into Salesforce solutions and design infrastructure and solutions. You Strategically plan and direct the rollout of ServiceMax's Asset 360 and Salesforce Field Service.
Acting as the principal consultant and leading the project scope from beginning to end, from defining requirements to implementing them and assisting with pre-sales by interacting with potential clients to identify new business prospects through developing estimates and scope documents. Expertise in a specific vertical market and familiarity with relevant technologies. Excellent proficiency with project management techniques. Having a firm grasp of key performance indicators and analytics for field service.
Job Description
As a Field Service Consultant, you will need to keep an eye on a franchise or cluster of franchisees in a particular area and offer suggestions on how to boost customer service, revenue, and efficiency. You advise franchise managers on recruiting and training new employees, suggest job responsibilities for various positions, discover fresh merchandising possibilities, design marketing materials, and communicate organizational instructions about sales targets, performance metrics, and procedures. As regional manager, you often travel to all office locations to check in on progress and resolve any problems that have arisen.
Between the years 2018 and 2028, field consultant jobs are expected to undergo a growth rate described as much faster than average at 14%, according to the Bureau of Labor Statistics. In addition, the number of field consultant opportunities that are projected to become available by 2028 is 118,300.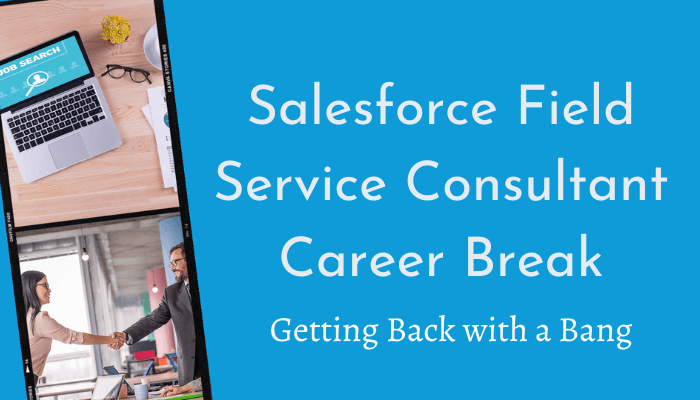 Field consultants average about $34.52 an hour, which makes the field consultant annual salary $71,792. Additionally, field consultants are known to earn anywhere from $48,000 to $105,000 a year. This means that the top-earning field consultants make $58,000 more than the lowest earning ones.
Once you have become a field consultant, you may be curious about what other opportunities are out there. Careers are not one size fits all. For that reason, we discovered some other jobs that you may find appealing. Some jobs you might find interesting include a senior advisor, business developer, project specialist, and business development internship.
Let's Summarize
Choosing a Field Service Consultant exam for a progressive future has become a source of numerous experiences in managing and configuring a Salesforce application to accommodate the specific needs of a field service operation. You have experience collaborating with different teams, including project managers, programmers, and solution architects, which makes you a valuable consultant.