The Red Hat certification is a certificate that is achieved after successfully passing the Red Hat Certified System Administrator (RHCSA) exam. Red Hat Certified Engineer (RHCE) is ready to automate Red Hat Enterprise Linux tasks, integrate Red Hat arising technologies, and apply automation for more efficiency.
What Is Red Hat and Why Get RHCE Certified Now?
Red Hat is the world's top provider of open source software and solution using a community-powered method to deliver dedicated and high-performing cloud, virtualization, storage, Operating systems (Red Hat Enterprise Linux), and middleware technologies.
Red Hat Certifications
Red Hat certifications help from system engineering and architecture roles and cloud and virtualization administration. The RHCE certification helps the professionals with system security management such as SELinux, Firewalls, and Access controls and operates its files systems and user base. It also adds skills in web server administration, remote storage connections, configuring DNS services, NFS services, FTP and SMTP services, etc.
RHCE Certification: Type and Nature of Exam
RHCE is a purely performance-based practical exam intended to show your understanding, skill, knowledge, and experience as a senior system administrator responsible for Red Hat Enterprise Linux systems.
It is a challenging exam and requires deep practical knowledge and clarity on academic concepts. Red Hat Individual exams allow you to schedule an exam at a time and location convenient for you to prepare at your speed and take your exam.
Benefits of Red Hat RHCE Certification
Red Hat, the RHCE certification exam, allows you to compete in real-world tasks using these technologies.
This RHCE certification enables the candidates with the skills of executing and configuring the technologies in question.
The RHCE certification delivers the knowledge and skills that enable professionals to get good jobs in the IT sector and have great chances of success. RHCE certification also brings you a great image in front of employers, and RHCE certification shows IT professionals take the most challenging roles in the IT world.
Red Hat certification shows administration skills developer understanding of specialized technologies that lead your path to success.
The Red Hat Certified Engineer (RHCE) certification makes certified experienced IT professionals, and it is also one of the leading certification programs for Linux skills. With the emerging technology, the RHCE professionals are much in need; RHCE certification permits the professional with the skills and knowledge of establishing and configuring on a management workstation.
The RHCE certification is valid for three years from when the candidate has become an RHCE, and candidates can renew the certification after three years.
The Red Hat exam offers an excellent opportunity for all candidates. It is a performance-based skill exam where the candidates are judged based on practical skills to conduct routine system administration on Red Hat Enterprise Linux. Red Hat exams are highly secured and convenient, and you can select a nearby center to give the exam.
Career Opportunities after RHCE Certification
After getting RHCE certification, the question emerges about career opportunities. The career opportunities available to you include:
A person will be qualified of configuring the network to Static routes
A person can select runtime kernel parameters
Packet filtering
Network address translation configuration
Internet small computer system interface implementation
Utilization and system conduct report generation
The system can be configured to deliver services like file transfer protocol, secure shell, web servers, network file system, simple mail transfer protocol, network time protocol, server message block.
And some other features are also available after obtaining the certification. It relies upon a person's interest in which they expected to get engaged.
Conclusion
Regardless of whether you are just at the beginning of your IT career or you already have several years of experience under your belt, Red Hat's certifications can assist you in moving up the ladder and finding a job worthy of your skills and aspirations.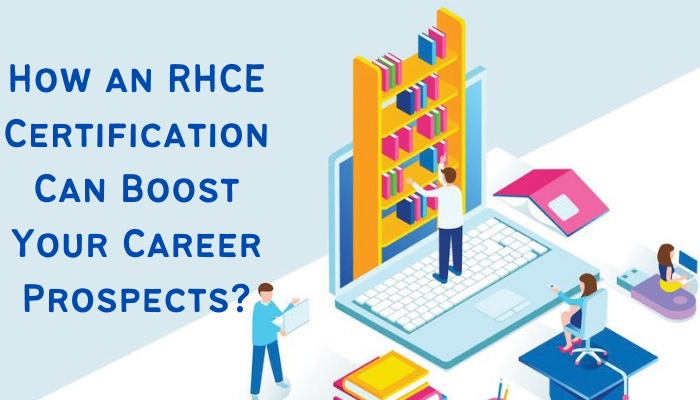 The RHCE certification program will bring a lot of opportunities to a person, and it will allow them to learn about specific aspects and boost their knowledge. Moreover, they will be able to enhance their career and will be able to get better salaries all along. This is deemed the best option whenever they wish to mark a supposed growth in the future.
Also, after getting the certification, if a person wishes to go abroad, they can choose the same. But you must understand all the aspects linked with the course and have completed it honestly.