Google Professional Data Engineer certification intends to assist you in mastering the skills of utilizing data to better an organization. When you have proficiency in developing, building, optimizing, and monitoring data, you can help make critical decisions for the business's productivity. A data engineer's role is essential today for almost every organization, and data is reasonably necessary to achieve stable business operations growth. Therefore, this certification is of the most profound concern for data engineer candidates.
A Professional Data Engineer promotes data-driven decision-making by collecting, transforming, and publishing data. A Data Engineer should also be able to leverage, deploy, and continually train pre-existing machine learning models.
The certificate is an official document that proves that you passed the exam, which needs understanding and knowledge of the Google Cloud Platform. It is a product and requires proper studying and experience, so it is worth it.
Importance of Data Engineering with Cloud
Cloud Computing is no more a relic of the past; it is a long-term solution for securing data in a flexible and scalable way that may save you money. Previously, Data Engineers were primarily concerned with handling data stored in Excel Spreadsheets and on local machines. As data increased in size and sophistication, more tools were slowly counted to cope with it, but the public landscape remained unaltered primarily until the development of "The Cloud."
Cloud Computing lets hardware and software products coexist and scale remotely. These technologies work together to deliver specialized services. Users can usually access, manage, and use the tools they need using a web interface without bothering the hardware.
Today, companies realize that data insights can add more value to their users' lives. So, business users value a fast, well-maintained Cloud Data Pipeline because it lets them answer all of their questions while serving up insights quickly. Hence, this is where Cloud comes into the picture. The Google Data Engineering platform delivers a robust security strategy, a unique invoicing approach, and a significant reliance on data analytics for optimal performance.
Take Your First Step towards Becoming a Google Data Engineer
The big data market increases in volume and complexity, including data engineering. This can be attributed to ever-increasing mobile data traffic, Cloud computing traffic, and the burgeoning development and adoption of technologies, including artificial intelligence and IoT.
With the right set of skills, you can position yourself to land the job of your goals, working with big data as a Google Data Engineer.
The Professional Data Engineer exam is not complicated but not that easy, and you need to have enough background knowledge in machine learning and data engineering concepts. But once you acquire the necessary skills for the exam, you will be able to pass the exam without much effort.
Why Go for Google Professional Data Engineer Certification?
Google has put up a reliable certification for IT professionals who intend to be data engineers over the Google Cloud Platform. You must go with the Professional Data Engineer certification because data analytics and big data analytics are considered the lifeline of any organization or business. Therefore, individuals ought to master this technology to take up data-oriented initiatives to help the company thrive.
To successfully implement the big data or data initiatives, you will need more proficient skills than being a data analyst or data scientist. You will initially require the skills of a data architect who will be designing the entire framework of data management for your organization. You will need data engineers to build that designed framework and bring the data pipelines into action for deriving business value from collected data.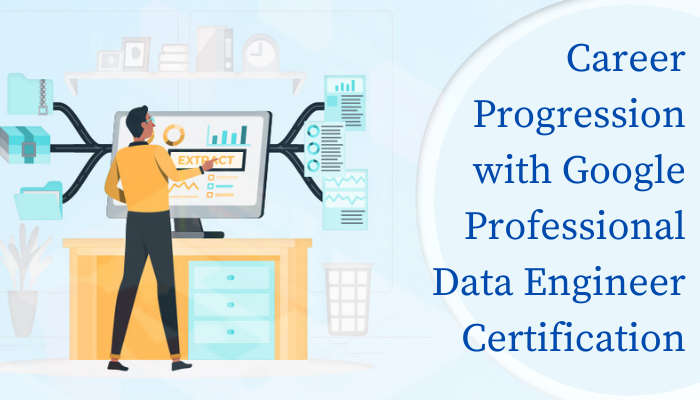 Therefore, if you are willing to pursue your data management and optimization career, this certification is an excellent supportive qualification. Getting an edge in this profession demands ideal certification, and Google Professional Data Engineer is a perfect pick for you.
While preparing for this certification, you will gain your skills in using the right tools from the open-source ecosystem of big data. You also need to have theoretical and practical knowledge of Python, Scala, or Java to clear this examination with good grades and on the first attempt.
Conclusion
In this article, you learned about the significance of Data Engineering with the Cloud and its crucial role. You also learned the steps to become a successful Google Professional Data Engineer. Overall, Google Data Engineering is one aspect of Google that keeps on innovating.