The Certificate of Cloud Security Knowledge (CCSK) confirms that a recipient keeps and can show some technical concepts in developing a holistic cloud security program.
Organizations are sharing critical business with clients and partners all over the internet, which puts it at risk of getting stolen – 60% of small businesses go bankrupt after an attack. Thus, professionals who understand the risk to organizations and provide solutions to lower risks are in high demand.
Earning your Certificate of Cloud Security Knowledge (CCSK) sets you apart from the crowd and signals to the employer that you bring valuable skills to the business. And if you are interested in an executive position, consider earning a certificate to improve your skills and value to the enterprise.
CCSK can assist prepare the successful exam candidate for several different job roles, such as a cybersecurity architect, meaning someone who designs and plans how security will be applied to IT services and, more specifically, in a cloud computing environment. Cloud computing consultants will aid by the CCSK certification.
How Do You Prepare for the CSA CCSK Certification Exam?
The CCSK exam covers several different topics, so preparation is critical for gaining a passing grade. Some potential opportunities are available for training, including self-study, online training, and in-person boot camp-style training.
CSA has published an official guide to the CCSK exam if you decide to go the self-study route. The focus is evident, and applying the principle in-depth and taking a few practice tests allows applicants to prepare for the CCSK exam.
If this seems daunting, maybe a training course would be better. Both in-person and online training options for the CCSK exam are available. Taking this training route gives you the advantage of having access to a CCSK expert throughout the training process, ensuring that all of your questions will be answered.
Tips on How to Proceed for CCSK Exam
Study the theories and sit down to fill out practice tests with a pencil. After that, look at the back of the books at the answers to find how many you got right/wrong. Go through all tests until you can comfortably score close to a 100% for all tests.
Follow up on the experiences of other CCSK test takers on Reddit. Critical is to sharpen your test-taking skills – most significantly, get better at taking less time to answer each question, begin with easy questions before attempting others, mainly where an exam permits you to skip questions and come back later, quickly skim more extended text questions to figure out what question is about, manage your breathing during the test and please do not panic, as this will make you waste precious exam time.
About three months of self-paced studying to cover CCSK study materials. Thus having passed any CSA certification, the knowledge is still the fresh mind and efficiently be utilized to give the others.
The CCSK exam allows cloud security practitioners to demonstrate their knowledge and skillsets in that field. The exam content is narrowly focused on cloud computing and the ability of theory, tools, and techniques required to secure it properly.
The experience prerequirements of the CCSK exam mean that it is not a perfect choice for those fresh out of college and looking to specialize in cloud computing. The five-year information technology prerequirement indicates that the exam targets mid-level rather than entry-level security professionals.
On the other hand, this exam may fit you if you want to break into the cloud security field. If you have the experience except for the cloud security background, think of pursuing the CSA Certificate of Cloud Security Knowledge (CCSK) and then the CCSP. This gives you to waive the requirement for cloud security experience for the CCSP and use the certification to aid get a job in the field.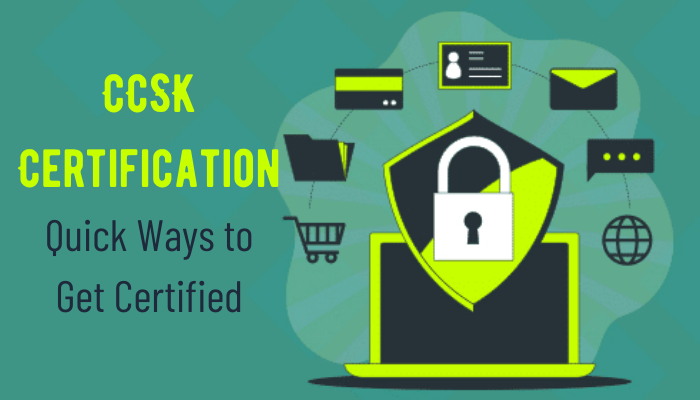 Average salaries for a CCSK are around $138,000 in the U.S. With the popularity of cloud technology and the upsurge in data breaches, having the skills to protect an organization's data is a great marketing tool. The CCSK is also the most common certification IT professionals plan to pursue.
The Bottom Line
The CSA CCSK is undoubtedly an organization you should look into for membership as a professional. You can provide a valuable resource for your participation. In return, you gain access to a wealth of knowledge you can utilize to go forward with implementing the cloud in your enterprise. Your customers and clients can feel confident in your abilities to help keep their data secure.