Certification defines you as a professional severe about applied learning in today's highly competitive industry, making you valuable to a potential employer. SAS certifications are among the most globally acknowledged credentials in the industry.
The SAS Certified Platform Administrator for SAS 9 exam is designed to evaluate your knowledge and experience in securing SAS configurations on each server machine, checking server status and running servers, monitoring server activity and administering logging, establishing formal, regularly scheduled backup processes, adding users and controlling their access, and more.
This intensive course provides accelerated learning for those students who will administer the platform for SAS Business Analytics. This course is for individuals who are comfortable learning large amounts of information in a short period. The SAS Platform Administration: Metadata Administration and SAS Platform Administration: System Administration courses are available to deliver the same information in a more detailed approach over a more extended period.
In the IT world, administrators are usually certified in their specialization compared to developers like Database Administrator, Network Administrator, Storage Administrator, Server Administrator, etc. Likewise, SAS also has a certification for SAS Platform Administrator, and once you are certified, it proves your seriousness towards the SAS technology.
What Is SAS Platform Administration?
SAS Platform Administration acclimatizes your SAS platform into the overall IT infrastructure in the simplest terms possible. People in this position often act as the bridge between the SAS platform, IT department, and business users. Platform administration refers to the installation and maintenance of the platform and assures that it is working in sync with the IT infrastructure.
SAS administration protects a wide range of responsibilities that include testing and upgrading the platform, evaluating the software for fixes, finding disk space for permanent data, analyzing results, and creating documentation for the platform.
As the Platform Administrator, they will provide support coordinating/ensuring incident response by using SAS tools and logs to triage and troubleshoot incidents and escalate and coordinate the resolution of the incidents. In this capacity, the position must communicate effectively and proactively with IT team members, business users, and SAS technical support to drive the resolution of incidents.
The Platform Administrator credential was designed for those IT administrators responsible for installing, configuring, administering, and maintaining the platform for SAS Business Analytics. Outcomes are quickly becoming a staple of today's most successful companies, which is why this credential is one of the fast-growing credentials available from SAS.
The SAS Platform Administrator will provide support services that will cover a broad range of tasks, from planning and completing SAS install and configuration efforts to helping the customer support existing SAS enterprise platforms and address user and administration concerns.
Target Audience
SAS Certified Platform Administrator (A00-250) for those who have the skills and knowledge required to administer the platform for SAS Business Analytics. It is beneficial for those leading or participating in projects. With the SAS Certified Platform Administrator Certification credential, you stand out in a crowd and demonstrate that you have the SAS Platform Administrator knowledge to make a difference within your organization.
SAS Certified Platform Administrator for SAS 9 is designed for those with the skills and knowledge required to administer the platform for SAS Business Analytics. Moreover, it is done for professionals who want to work as a:
SAS Solutions Architect
SAS Web Developer Administrator
Platform Administrator Enterprise Data Digital Health
Cloud Platform Administrator Systems Developer Managed Application Service
Business Intelligence Administrator
SAS Platform Administrator: Job Description
The SAS Platform Administrator will deliver overall SAS platform Architecture and Administrative support.
Primary duties include maintenance, enhancements, installation, and support for quick architecture changes for SAS Products (EBI, EM, ESP, EG). It also contains providing SAS platform security management.
SAS application and underlying infrastructure support and ensure processes are aligned and compliant with internal policies and regulatory requirements.
A good Platform Administrator must have exceptional communication skills since they work directly with employees across an organization to understand their requirements and ensure all employees can work as efficiently as possible. They also need a solid technical understanding of information systems to address issues across the organization.
Though firms in the computer industry employ many Platform Administrators, they also work across all sectors. Some may work for financial companies, while others work in hospitals or local government offices. Platform Administrators work alongside IT Analysts to further comprehend the technology they manage.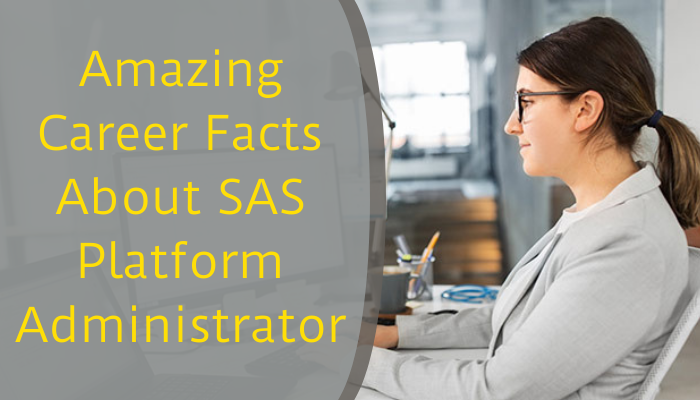 Wrapping Up
Given the importance of Platform Administration, finding the right person who can assist optimize the platform is essential. The ideal administrator is someone who not only understands the SAS platform but also someone with business details and an understanding of how the organization works.