Nutanix Certified Professional – Multicloud Automation (NCP-MCA) is a prestigious certification offered by Nutanix, a leading provider of hybrid cloud infrastructure solutions. This certification validates the skills and expertise of IT professionals in designing, deploying, and managing Nutanix hybrid and multicloud environments.
The Nutanix NCP-MCA certification focuses on various aspects of multicloud automation, which orchestrates and manages workloads across multiple cloud platforms. By obtaining this certification, professionals demonstrate their proficiency in leveraging Nutanix technologies to optimize applications and infrastructure deployment, management, and automation in multicloud environments.
Preparation Tips for NCP-MCA Certification
Preparing for the NCP-MCA certification requires theoretical knowledge and practical experience.
1. Familiarize Yourself with the NCP-MCA Certification Blueprint
The first step towards success is thoroughly reviewing the NCP-MCA exam blueprint provided by Nutanix. This blueprint outlines the exam objectives and the critical areas of knowledge you need to master. Take the time to understand each domain and subdomain, as this will help you structure your preparation plan effectively.
2. Utilize Official Nutanix Resources
Nutanix provides various official resources to support candidates in their certification journey. Make sure to leverage these resources, including study guides, whitepapers, and documentation, to understand the concepts and technologies covered in the exam. These materials are invaluable in building a solid foundation of knowledge.
3. Hands-On Experience
While theoretical knowledge is essential, practical experience is equally important. Set up a lab environment using Nutanix Community Edition or access Nutanix Test Drive to gain hands-on experience with the platform. This will allow you to apply the concepts you have learned and reinforce your understanding of Nutanix technologies.
4. Join Nutanix User Communities
Engaging with the Nutanix user community is an excellent way to enhance your knowledge and connect with like-minded professionals. Participate in online forums, discussion boards, and social media groups dedicated to Nutanix technologies. These communities provide valuable insights, real-world experiences, and helpful tips for exam preparation.
5. Practice with NCP-MCA Sample Questions
Practice with sample questions to familiarize yourself with the Nutanix NCP-MCA exam format and assess your readiness. By answering these questions, you can identify areas where you need to improve your understanding further and allocate your study time accordingly.
6. Seek Additional Learning Resources for Nutanix NCP-MCA Certification
In addition to Nutanix's official resources, consider exploring supplementary learning materials. Online platforms, such as e-learning courses, video tutorials, and blogs, can offer alternative perspectives and explanations that complement your study. Be selective in choosing reputable sources that align with the exam objectives.
7. Create a Study Plan
Developing a structured study plan is crucial for adequate preparation. Break down the Nutanix NCP-MCA exam objectives into manageable sections and allocate dedicated time for each. Set realistic goals and milestones to track your progress. A well-organized study plan will help you stay focused and motivated throughout your preparation.
8. Stay Updated and Practice Continuous Learning
The IT industry evolves rapidly, and staying updated with the latest developments is crucial. To stay informed, subscribe to Nutanix blogs, follow industry influencers, and participate in webinars and conferences. Continuously expand your knowledge beyond the certification requirements, as this will enhance your expertise and professional growth.
9. Time Management and Nutanix NCP-MCA Certification Exam Strategy
During the exam, time management is critical. Familiarize yourself with the exam duration and the number of questions you must answer. Divide your time strategically to ensure you have sufficient opportunity to address each question. Refrain from getting stuck on challenging questions; if you encounter difficulty, mark the question for review and move forward. You can always revisit it later.
10. Stay Calm and Confident
On the Nutanix exam day, it is essential to remain calm and confident. Adequate rest the night before and a healthy breakfast on exam day will help you maintain focus. Trust in your preparation and the knowledge you have acquired. Take deep breaths, manage your time wisely, and approach each question.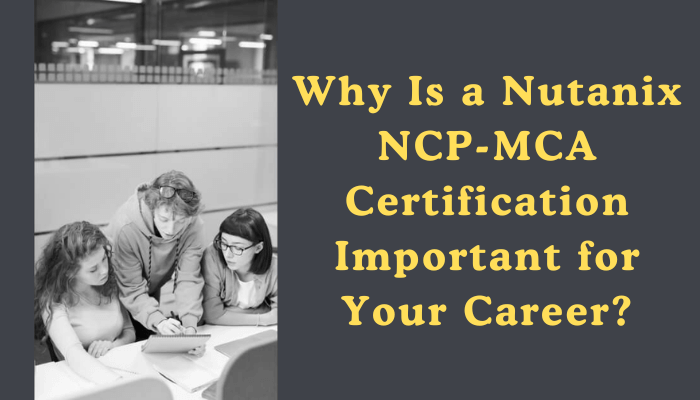 Conclusion
Preparing for the Nutanix Multicloud Automation (NCP-MCA) certification exam requires dedication, thoroughness, and a well-structured study plan. Following the tips outlined in this article can significantly increase your chances of success. Remember to leverage the official Nutanix resources, gain hands-on experience, and connect with the Nutanix user community. Stay confident, manage your time effectively, and approach the exam positively.