Salesforce Sales Cloud Consultant is one of the leading CRM systems on the market, supporting growing popularity and customer base. Subsequently, there is a need for Salesforce Certified Sales Cloud Consultants who can efficiently address the business issues of customers that come with CRM functionality.
What Is Salesforce Sales Cloud Consultant?
The Salesforce Sales Cloud Consultant is a product designed to manage, analyze, and handle sales processes. Many times, both the sales representatives and sales managers use the Sales Cloud Consultant functionality to complete the tasks scheduled for different priorities and better efficiency.
As for the sales representatives, Salesforce offers efficient and relatively comfortable customer communication with considerable channels within the Sales Cloud UI. With an advanced integration on a customer's website and social media sync, you can collect precise information about contacts, accounts, and targets. There are extensive automation capabilities that help sales representatives with numerous routine tasks while freeing up their time for nurturing leads and closing multiple deals.
With the sales cloud implementation, you can construct and manage a sales strategy within a single system. Sales Cloud enables sales managers to control and assess sales representatives. Using the performance data, the sales manager can quickly identify the strengths and weaknesses required to improve skills, increasing the sales department's overall performance.
By using the Sales Cloud, sales managers can also deal with challenges such as disjointed sales processes and the process alignment required with marketing.
What Is a Salesforce Sales Cloud Consultant Certification?
The Salesforce Sales Cloud Consultant certification is an examination designed for consultants with experience implementing Sales Cloud solutions in a customer-facing role. A Salesforce Certified Consultant can successfully develop and implement effective solutions to meet the customer's business requirements.
This is a credential that allows the consultant to introduce solutions that are maintainable, scalable, and the ones that contribute to long-term customer success. Some examples of these solutions can be design sales and marketing solutions for meeting business needs, design applications and integrations that maximize user productivity, and data and design analytics solutions that can help track key Sales Cloud metrics.
This certification is primarily designed for customer-facing consultants with experience in implementing Salesforce solutions from the beginning. It still applies to Salesforce Admins who want to demonstrate their advanced platform knowledge and deal with complicated Salesforce plans. It is recommended to take this certification if you are looking for a promotion, a move from administration to consulting, or a job change.
The Benefit of Salesforce Sales Cloud Consultant Certification
For all the companies that offer IT services, becoming a Certified Sales Cloud Consultant means serving the requirements of customers in a better way. After getting the certification, the consultants can deliver the services following the business and industry specifics taken into account.
A Salesforce Certified Sales Cloud Consultant is a person who brings exceptional value to the customers, ensures efficient CRM use, and also provides timely guidance on CRM's ongoing evolution. Becoming a certified consultant in the Salesforce Certified Sales Cloud Consultant is essential for gaining a Partnership Value Score and being assigned one of the partner tiers.
For instance, an organization must have at least two certified consultant-level employees to get a Registered Salesforce Partner tier. An IT company's benefits from the Registered partner tier include free online training from Salesforce, a discount on instructor-led training, a certification exam voucher, and much more. As for the employees, the Sales Cloud consultant gets many more job offers, accelerates career growth, and guarantees a substantial pay rise.
The Process to Get Salesforce Certified Sales Cloud Consultant Credential
If someone is interested in getting certified as a Sales Cloud consultant, the first step is to apply to complete the Salesforce Sales Cloud Consultant practice exam.
The passing score needed to become a consultant is 68%. The exam is taken to verify the applicant's ability to plan a Salesforce Certified Sales Cloud Consultant implementation setup with a view of KPIs. Other tested skills commonly included are a convenient solution design according to a customer's requirements, identifying key features for better sales productivity, etc.
The registration fee for this exam is USD 200 plus applicable taxes as required by the local law, and the retake fee for this exam is USD 100 plus applicable taxes needed by the local law. No hard copy or online materials can be used for reference during the examination.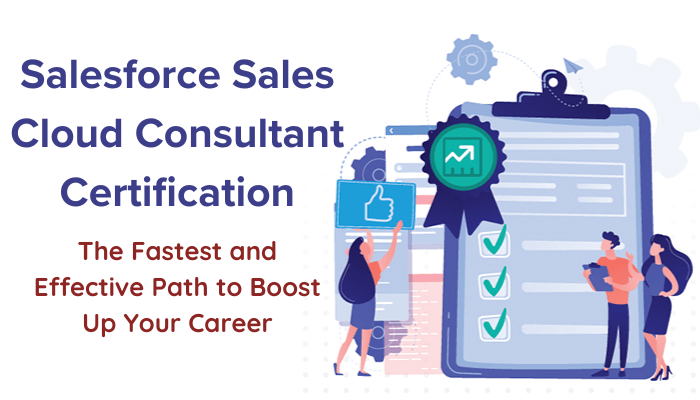 Validity of Salesforce Sales Cloud Consultant Certification
Since the Salesforce release system gets updates three times a year, the Salesforce CRT-251 certification is valid until the next release. The owner should update the certification by passing the Trailhead maintenance modules to keep it accurate. According to Salesforce, the release module corresponding to the Sales Cloud consultant's job role is the Administrator Certification Maintenance module.
The CRT-251 certification can get outdated if the owner still needs to complete maintenance modules on Trailhead by the required date. Mostly, the certification owners have some months after the release date to complete the maintenance modules. Suppose the certification owner fails to meet the maintenance modules correctly. In that case, they will likely lose their Sales Cloud consultant credentials while having to retake all the required exams.
Conclusion
Getting the Salesforce certification is one of the best options if you are looking for a more advanced CRM qualification. The best part is that Salesforce is not just creating jobs for the products; the professionals with Salesforce are in high demand.