Salesforce Strategy Designer Certification validates an individual's skills in utilizing the Salesforce platform for strategic planning and decision-making. This certification is designed to test technical prowess and the ability to align technology solutions with business objectives effectively.
Candidates for the Salesforce Certified Strategy Designer role add value by guiding the design of system-level solutions to conduct business and user objectives. Candidates should prioritize the crucial over the pressing and produce tangible, intangible/relational outcomes.
Key Features of the Salesforce Certified Strategy Designer Certification
A Salesforce Certified Strategy Designer's expertise expands to business, innovation, design, and even the execution of strategies. They can also steer, design, and lobby throughout the creation and product development processes. In addition, they can work across disciplinary boundaries thanks to their extensive experience and training in strategic planning, design, and implementation.
A Salesforce Certified Strategy Designer has the skills to maximize a team's potential, fill in any gaps, and know when to bring in outside help. The Salesforce Certified Strategy Designer is well-versed in the needs of businesses and their customers and is skilled at building rapport and collaboration within and between teams.
How to Study Salesforce Strategy Designer Certification?
To succeed on the Salesforce Strategy Designer certification exam, adhere to the steps below:
Suppose you want to become a Salesforce Certified Strategy Designer. In that case, it is a good idea to familiarize yourself with the certification's prerequisites, such as the knowledge and skills required to succeed.
Focusing on the Trailmix materials for independent study is an excellent first step.
Reading the Salesforce Certifications Guide and Salesforce's official Trailhead Exam Guide is highly suggested. These will provide you with an excellent overview of the various test-related topics.
Who's the Ideal Candidate for Salesforce Strategy Designer Certification?
Candidates for this exam should have at least three years of practical experience as a strategy designer or a related role and a minimum of one to two years of experience working with the Salesforce platform. With at least two years of experience leading complicated projects, a Salesforce Certified Strategy Designer is equipped with top-tier facilitation and consulting skills.
Anyone interested in proving their competence in the following areas should take the Salesforce Certified Strategy Designer exam:
Leading the product's discovery, research, and design efforts in the same direction.
Supporting the development of complete customer journeys.
Coordinating what a company needs with how a customer uses a Salesforce product or service.
Promoting solutions offers high standards for design and shared vision.
Locating and defining issues.
Making use of the principles of design thinking.
Directing the focus of design efforts and their implementation.
Taking advantage of complementary functions and understanding when to seek advice from specialists in visual identity, business, and technology.
Get people on the same page about the future you are trying to create, understandably present complicated ideas, use innovative approaches to address concerns and win over skeptics.
Salesforce Strategy Designer Exam Tips
Preparation is vital to success. Utilize official study resources and practice exams. Additionally, engage in hands-on projects to reinforce theoretical knowledge.
Please consider the Trailhead scenarios, flashcards, and skills path when studying independently.
In other words, no prior experience or knowledge of information technology is needed. You can enter this profession from the ground floor and work up to a higher level position, such as Strategy Designer, by taking different courses at progressively higher degrees of difficulty.
Why Pursue Salesforce Strategy Designer Certification?
As businesses seek individuals who can bridge the gap between technology and strategy, holding this certification becomes a powerful differentiator in the job market. The industry acknowledges the certification as a testament to an individual's commitment to excellence and innovation.
Prerequisites for Salesforce Strategy Designer Certification
To pursue Salesforce Strategy Designer Certification, candidates need a combination of educational qualifications and practical experience. This ensures that those obtaining the certification are well-equipped to handle real-world scenarios.
The Salesforce Strategy Designer Exam Experience
The certification exam is a comprehensive test of one's understanding of Salesforce tools in a strategic context. Understanding the exam structure and potential challenges can significantly enhance the chances of success.
Success Stories
Numerous professionals have experienced career growth post-attaining Salesforce Strategy Designer Certification. Their success stories inspire aspirants, highlighting the tangible benefits of holding this certification.
Job Market Trends
In an era where data-driven decision-making is paramount, professionals with Salesforce Strategy Designer Certification are in high demand. Employers recognize the value these individuals bring to the table, resulting in competitive salaries.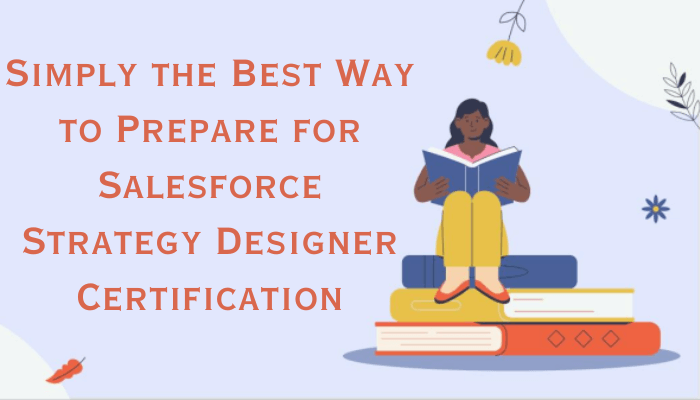 Comparison with Other Salesforce Certifications
While several certifications exist in the Salesforce ecosystem, Strategy Designer Certification sets itself apart by focusing specifically on the strategic implications of technology solutions. It complements other Salesforce certifications, creating a well-rounded professional.
Conclusion
Salesforce Strategy Designer Certification opens doors to compelling career opportunities by bridging the technology and strategic planning gap. As businesses increasingly rely on Salesforce for strategic initiatives, certified professionals are in high demand.